Throwback: A walk through Sushant Singh Rajput's lavish home, Watch
Sushant Singh Rajput passed away on June 14, 2020. Here's a throwback video of the late actor's lavish home.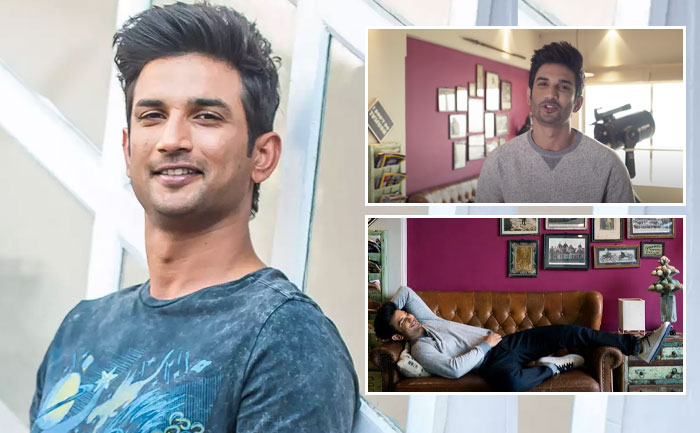 Sushant Singh Rajput was found dead on June 14, last year at his home in Bandra, Mumbai. The news of Rajput's demise jolted his family, fans, and the whole film fraternity. The late actor was a fan of everything astronomical and it all reflected in the style he chose for his Mumbai apartment. The tour of the SSR's home showed his love for science and art.
In 2018, Sushant featured in the episode of Asian Paints' Where The Heart Is and showed his fans his lavish residence in Mumbai. Talking about how he sealed the deal on the house, he said that he was shooting for a film in Budapest and was given a virtual walkthrough of the home and he was sold. SSR also shared that he was excited about moving in.
Further, talking about his living room, he said that it encourages time travel in a way as there are different stories that are condensed in different forms. He said that the pictures on the wall are interesting and it will tell a compelling story if looked at closely.
Watch video:
Speaking about his reading room, SSR said: "I keep having conversations with the writers whose books I read." He also introduced his fans to his 'Meade 600′ telescope. "You can see the rings of Saturn, the four moons of Jupiter, different galaxies, and Andromeda (galaxy) as well when the sky is clear."
The actor also shared that the entertainment room was his favorite as the walls of it are peppered with pictures and memorabilia that pay homage to his fascination with NASA. He revealed how he always wanted to be an astronaut, later, a pilot but he settled for a career in engineering and finally became an actor, knowing that he would probably get to live his dream by playing all three roles.
Talking about the design of his house, Sushant said: "My home is a mix of everything. It doesn't follow a pattern or a particular design. I wanted to break and attach things to make something new," he says.
June 14, this year marks Sushant Singh Rajput's first death anniversary.
ALSO READ: #4YearsOfRaabta: Kriti Sanon Remembers Sushant Singh Rajput, Shares Video