Sushma Swaraj- A modern day Jack-O-Lantern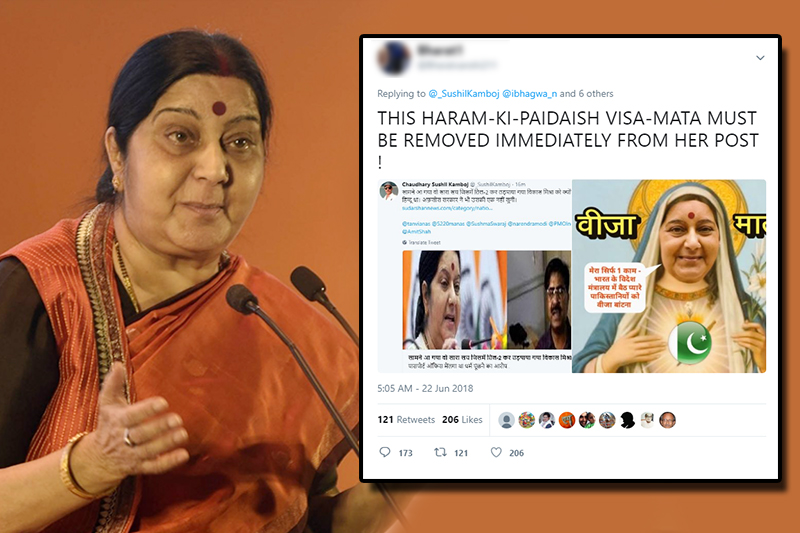 The recent episode of Sushma Swaraj's woes, reminded me of the Irish folklore of 'Jack –O Lantern' a man, who made a deal with The Devil and then could not either be allowed in Heaven nor hell.
Sushma Swaraj who has been recuperating from a kidney ailment was met with a volley of abuses when she logged in her Twitter account on Sunday. For those who haven't followed news for a while, here's an update- A regional passport officer in Lucknow, Vikas Mishra, was under the social media microscope for allegedly harassing a Hindu woman and her Muslim husband + on account the latter's faith. The woman tweeted to Swaraj – who was on a state visit in Europe at the time – and the alleged incident came to the attention of the media.
The woman alleged that Mishra told her Muslim husband to convert to Hinduism + if he wanted his passport renewed. He also allegedly told her "it is a duty for a woman to get her name changed after marriage". (The woman retains her surname.)
Mishra, meanwhile, refuted the couple's allegations saying he was just following procedure. The officer, who a day after the incident was transferred to Gorakhpur from Lucknow, said the woman had a different name in her 'nikahnama', or wedding certificate, compared with her other documents, which is why he asked for more proof. He also denied saying "it is a duty for a woman to get her name changed after marriage".
However, Sushma Swaraj, the political Superwoman, granted passports to the couple and at the same time was accused of being involved in the transfer of the passport official.
This did not go down well, with the BJP trolls on social media, who accused Sushma of being 'Islamic'. They further vilified her and mocked her kidney ailment ruthlessly. Sushma, soon became a part of jokes and memes being circulated on the web, as her party distanced themselves from her. Sushma in an attempt to comeuppance with the trolls decided to RT some of the vilest abuses thrown at her.
I was out of India from 17th to 23rd June 2018. I do not know what happened in my absence. However, I am honoured with some tweets. I am sharing them with you. So I have liked them.

— Sushma Swaraj (@SushmaSwaraj) June 24, 2018
In a rare move of bipartisanship, the Congress decided to support her and tweeted in her favour.
No matter the situation or reason, nothing calls for threats of violence, disrespect & abuse. @SushmaSwaraj ji, we applaud your decision to call out the heinous trolls of your own party.https://t.co/qcB0qemRGZ

— Congress (@INCIndia) June 24, 2018
This did not come as a surprise to many as Sushma who has always maintained a secular persona, received flak by some of the followers of her own party. The BJP IT cell has been caught in many a controversy for unleashing some of the foulest and vilest of social media trolls who possess no shame in giving out death and rape threats to women. BJP's trigger happy online warriors are only to pleased to share fake quotes and fake news through their network of Whatsapp groups, Twitter DMs and Facebook groups. Most of these followers have proudly written in their bios, that they are followed by Narendra Modi or some other leader from the BJP topbrass.
However, Sushma's partymen have maintained a silence, raising eyebrows if her secular image is perhaps hurting the right wing party? The same party which chose to side with her during the several controversies she courted. Be it the Lalit Modi travel papers case or giving her daughter a medical seat through the North-East quota or her communal statements in the aftermath of the 92 riots. Not that she hasn't angered the Congress as well. The Congress demanded her resignation in 2011 when a video of her dancing at the Gandhi memorial surfaced. She also made a controversial statement that Mehbooba Mufti praised Narendra Modi, which led to a war of words between Mufti and the then CM of Jammu and Kashmir, Omar Abdullah.
The former lawyer, whose father Hardev Sharma, was a member of the Rashtriya Swayamsevak Sangh (RSS)a fundamentalist Hindu organisation, has always maintained a communal stand be it during the Ram Lalla movement or the Babri demolition. However, her newfound secular image is unbecoming of her. The BJP IT head Amit Malviya, who has been accused of creating fake news and for polarising people online, is also surprisingly mum. The party who's moniker was 'Bahot hua naari pe waar, abki baar Modi sarkar', is seeing silence from the women leaders too. No 'Naari' of BJP has come out in support of Sushma Swaraj nor has any leader stood in solidarity with Sushma's ordeal online. The liberals certainly don't want to associate with Swaraj due to her communal agenda, but then where does she fall on the political spectrum now?
The biggest bane of social media is we tweet first and think later. No party is a saint when it comes to social media trolling, but BJP is winning this war hands down. However, what has happened with Sushma Swaraj is a classic case of Frankenstein being fed on a daily dose of hate and it turning on its own master.