World Cup 2018: Will Leo stand up like El Diego?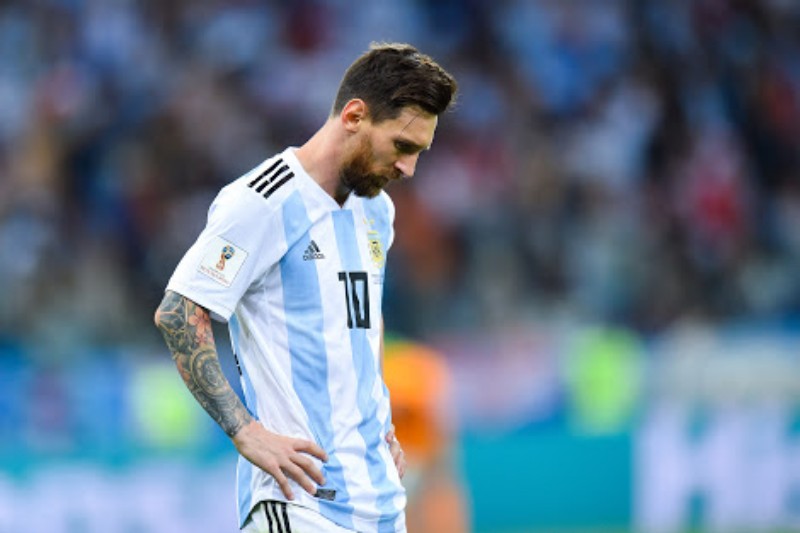 Leo Messi faded away from the pitch and disappeared into the pavilion – just like he had for the entire match – as Argentina stood on the brink, succumbed down to their worst World Cup group stage defeat in the last 60 years. Croatia had truimphed 3-0, rampaging into the last 16 and Argentina lay rugged – the smell of an unexpected exit running through their mind.
The World Cup has always been special for 'La Albiceleste' but while the anguish of not winning the most coveted crown since 1986 has hurt, what has wounded them most is the dismal show of their star – the man they called the next Diego Maradona.
The Argentine God would often step up at times his country had lost hope and drag them to victory just a fairy-tale. But his protégé is not the same. Leo is still a 'Pecho Frio' (cold hearted) to Argentina and perhaps will continue to be so.
According to a report in The Guardian, he ran less than a mile against Iceland when not on ball possession – a staggering low, even lowest of the 22 players present on the turf.
Then in a must-win contest against the Croats, Messi cut a sorry figure standing on the right, watching his beloved country sink into despair, his childhood dream once again shattered. All he did was attempt one shot, the rest spent in wilderness where the ball hardly reached him as Argentina's chances slowly diminished. Not that Leo did not get a chance. Against Iceland he had their best opportunity to score but his tame penalty shot failed to find the net as did his 10 other hits, most of which went out wide.
But this was not what it was supposed to be. The World Cup in Russia was meant to be his and if football owed him something it was to be this. He looked an able captain, matured enough to carry Argentina on his shoulders just like he dragged them to Russia scoring a superb hat-trick in the final qualifier against Ecuador.
Instead his shoulders shrugged when it mattered the most and with him fell an entire nation – the country of two footballing gods, one reaching immortality and the other like an Eagle, chained down to the ground.
Also read: World Cup 2018: The Viking clap is here to stay
Messi's dismal performance at the 2018 World Cup however does not end on him alone and the blame must be equally shared with his teammates and coach Jorge Sampaoli.
Sampaoli in fact should account for more of that blame. After speaking much about building the team around Messi and making a squad that could unleash his true potential, the former Sevilla coach named a line-up that just did the opposite – hide Messi from the ball  – and against Croatia their best player had the fewest touches, just a fraction more than goalkeeper Willy Caballero.
Such was Sampaoli's philosophy that he dropped Argentina's best players in a must win encounter and named a formation, 'La Albiceleste' could never succeed in. The former Chile coach had himself accepted in March that his country lacked the players to play with three men at the back, yet against Croatia he played in a 3-4-2-1 style, leaving his country not only defensively fragile but also offensively useless.
Equally disappointing were Messi's teammates, most of whom tried to run the show but ended up ruining their own chances often trying vain efforts at goal, when their great teammate was lurking around in open spaces.
But despite standing at brink all is not over for Argentina. They can still make it to knockouts and Leo can still have his redemption, just like Toni Kroos did the other night against Sweden. But will he step up as the German star did? Will the 'Little Magician' finally deliver for his country? Or will his best shot at glory and perhaps his last, end on a disappointing note? The show either ends or begins on June 26.