Sushma Swaraj slams Pakistan, says 'Googly remark disrespectful to Sikhs'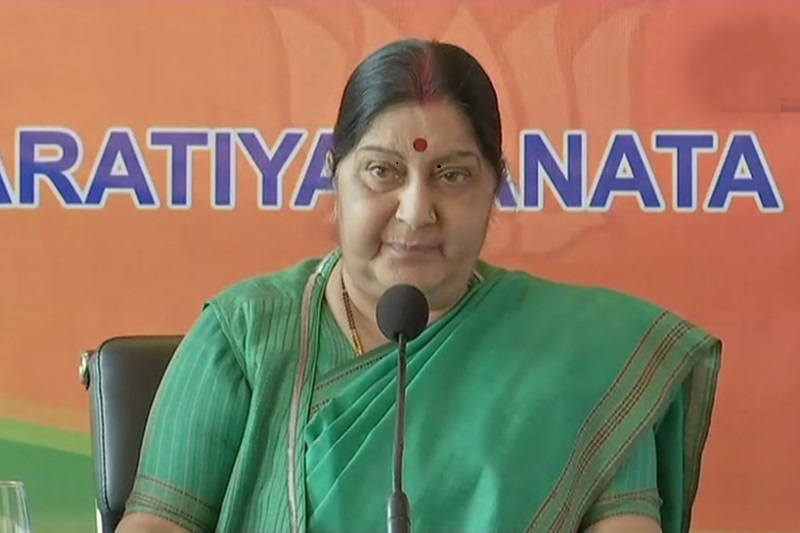 On Saturday, External Affairs Minister Sushma Swaraj slammed her Pakistani counterpart, asserting that his remark about Pakistan Prime Minister Imran Khan bowling a googly at India by sending along an invite to the Kartarpur groundbreaking ceremony was 'disrespectful to Sikh sentiments'.
She further tweeted, "Mr Foreign Minister of Pakistan – Your googly remarks in a dramatic manner has exposed none but YOU. This shows that you have no respect for Sikh sentiments. You only play googlies." She also added, "Let me explain to you that we were not trapped by your 'googlies'. Our two Sikh Ministers went to Kartarpur Sahib to offer prayers at the Holy Gurudwara."
Earlier, Pakistan Foreign Minister Shah Mahmood Qureshi had painted the invite sent to the Indian government as a political masterstroke by Mr Khan.
On Thursday, he quipped, "Imran delivered a googly and India sent two ministers here," referring to his Prime Minister's erstwhile career as a bowler in the country's cricket team.
Notably, The invite had come after both countries announced that they would develop Kartarpur corridor in their respective areas, linking the Dera Baba Nanak in Punjab's Gurdaspur district with the Gurdwara Darbar Sahib — the final resting place of Sikh saint Guru Nanak Dev — in Pakistan. Once laid, the passage will give Indian pilgrims easy access to the shrine.
Sushma Swaraj had cited 'prior commitments' to decline the Pakistan government's invite, after which the centre decided to send Union Ministers Harsimrat Kaur Badal and Hardeep Singh Puri to Pakistan in her stead. Along with them, Punjab Minister Navjot Singh Sidhu, had also attended the ceremony.
Also read: Govind Pansare Case: Two more arrested, remanded to police custody