Swara Bhasker gets trolled for promoting 'Zero' on Twitter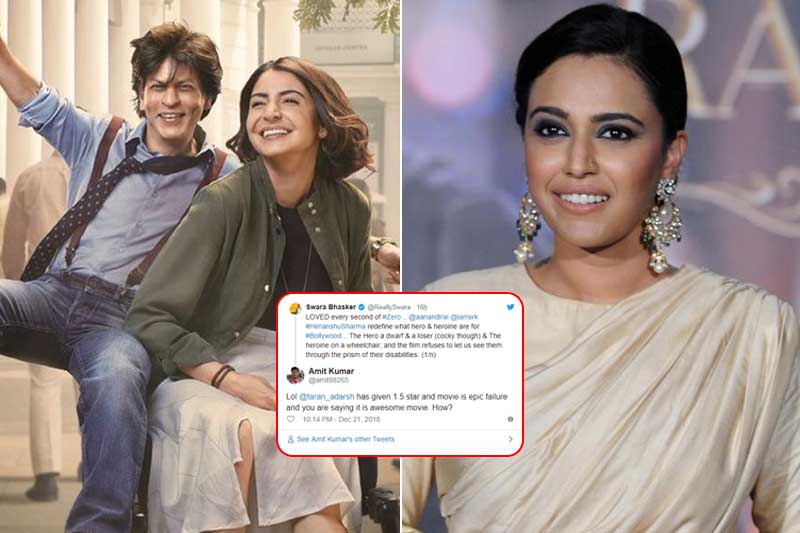 Swara Bhasker, a Bollywood actress, who is known for raising her voices against injustice got badly trolled for promoting 'Zero' on Twitter. Bhasker does not hesitate to speak up on issues be it politics, women empowerment, equality and others.
Swara Bhasker is damn active on social media especially on Twitter, and this is not the first time when she got trolled for writing her opinion on the microblogging site. She has been trolled on several occasion for expressing her views and putting her opinion in front of the mass audience.
However, successive trolling has never stopped her from expressing her views on Twitter. Let's take a look, why Bhasker got trolled this time.
Check out what Swara Bhasker Tweeted about Zero:
LOVED every second of #Zero .. @aanandlrai @iamsrk #HimanshuSharma redefine what hero & heroine are for #Bollywood .. The Hero a dwarf & a loser (cocky though) & The heroine on a wheelchair; and the film refuses to let us see them through the prism of their disabilities. (1/n)

— Swara Bhasker (@ReallySwara) December 21, 2018
Both protagonists vulnerable & deserving of our sympathy & empathy & yet the writing stubbornly refusing 2 allow us that easy indulgence instead forcing us to see them as 'normal' characters & giving them a story & conflicts & motivations of 'normal' people. #Zero is brave! 2/n

— Swara Bhasker (@ReallySwara) December 21, 2018
After watching the most awaited movie 'Zero', Swara Bhasker took to Twitter and lauded the movie and Anushka Sharma and Shah Rukh Khan's acting whereas critics have been slamming the film for its poor script and acting. She went on and called Zero a redefining moment for Bollywood.
When people noticed her tweet, they couldn't resist themselves but called out the actress for supporting a poorly made film.
Take a look at how people have reacted to Bhasker's tweet:
I watched it
Super duper boring

Would prefer old classic Govinda movie any day

— Deepam (@Deepam30061988) December 22, 2018
:)) she is trying hard to promote a movie which has already tanked in BO.

— simanta talukdar (@enigma15in) December 22, 2018
फ़िल्म के लग गए, तू ज़बरदस्ती मत कर ! Critics and audience both have expressed disappointment !

— Rohit Koul?? (@koulrohit2016) December 22, 2018
Madam we all understand and respect the Personal connection with the writer but stop promoting movies which take away hard earned money without entertaining the viewing public.

— Beena (@Bina94475085) December 21, 2018
Super movie.. … If you're an insomniac you will definitely fell in sleep in 2nd half

— kiran kumar banala (@banala_kumar) December 21, 2018
Also read: In Pics: Kiara Advani looks drop-dead gorgeous in Manish Malhotra's outfit