Taiwan Train Crash: More than 41 killed after a train partially derailed 
On Friday a tragic incident took place on the eastern coast of Taiwan. The train carrying passengers partially derailed resulting in the killing of dozens of people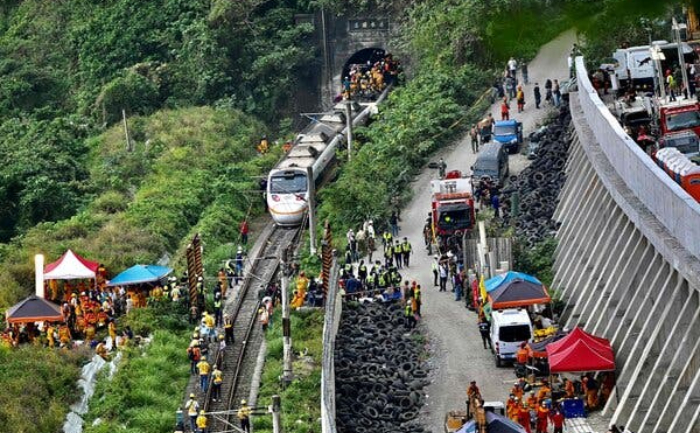 A train in Taiwan carrying reportedly around 350 passengers was heading towards Taitung got partially derailed after an unexpected crash with a vehicle on the tracks. The accident made the train stuck inside the tunnel and the carriages hit the wall of the tunnel. The fire department is said to have arrived for the rescue, however, more than 41 deaths and many injuries have been reported from the accident location. 
The local reports stated that a heavy truck fell from a cliff above and landed on the tracks, where a train emerging from a tunnel smashed into it. A big part of the train remains trapped inside the tunnel and it left no space for the passengers to escape. After the rescue team reached the location the passengers were taken out of the train through the windows and roofs of the train. Video and pictures from the tragic incident are going viral on the internet.
#Taiwan: 48 people have been d!ed and dozens injured after a train carrying nearly 500 crashed and then derailed inside a tunnel. pic.twitter.com/Mxtcud7daX

— 👁️🇰ᵃᵃˡᵃ_🇳ᵃᵍ👁️Reports☢️🇮🇳 (@Kaala_Nag) April 2, 2021
Taiwan train derailed, 36 died in deadliest rail tragedy in decades#Taiwan #TaiwanTrainCrash https://t.co/0a1RJV3wvs pic.twitter.com/DVWKmBH4qB

— Sri Lanka Tweet 🇱🇰 (@SriLankaTweet) April 2, 2021
#Taiwan:- At least four people have reportedly been killed and some two dozen injured after a train derailed in eastern #Taiwan pic.twitter.com/lyBgcAyObp

— Wᵒˡᵛᵉʳᶤᶰᵉ Uᵖᵈᵃᵗᵉˢ𖤐 (@W0lverineupdate) April 2, 2021
A passenger train in Taiwan carrying an estimated 350 people has derailed in a tunnel in eastern Taiwan, killing at least 36 so far. This express train hit an unattended engineering truck sliding from the side of the railway into the path of the train. pic.twitter.com/mftxZCdZls

— Otto Huang  (@OttoHuang120) April 2, 2021
Reportedly, this construction site truck was being operated by the railway administration and slid onto the track from a worksite on the hillside above. The truck was off duty at the time. It is said that the speed of the train was uncertain when it crashed into the vehicle at around 9:28 a.m. near the Toroko Gorge area.
Also Read:  Afghanistan: Car Bomb Kills 8 Wounds More Than 15 In Kabul