Upcoming Tamil Movies Releasing This Week (Friday) January 10, 2020
Here's is the list of latest (upcoming) Tamil Movies which will hit the theaters on January 10, 2020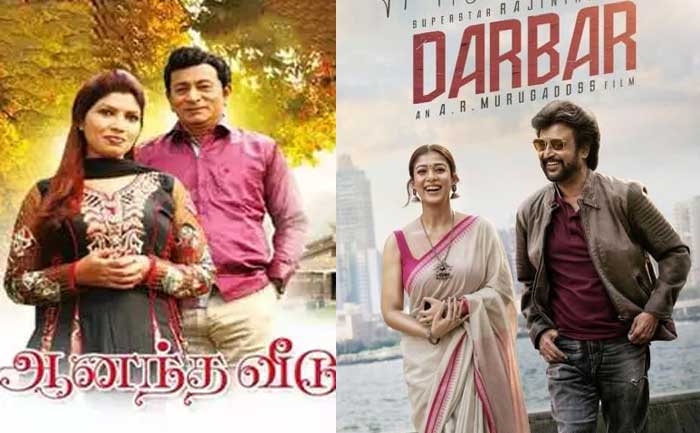 One week of January 2020 has already gone. In the first week of January 2020, we witnessed multiple Tamil movies releasing on the silver screen. Some of latest Tamil movies released in multiple languages namely Hindi, English and Telugu. We bring you a list of upcoming Tamil movies or Tamil movies hitters the theaters this Friday, January 10, 2020. 
Unlike last week, this week only two Tamil movies is scheduled to release. Besides these upcoming Tamil movies, you can also find out upcoming Bollywood Movies or Hollywood movies, which are going to release on January 10.
Along with upcoming Tamil movies, we bring you all the important information related to films such as cast, official trailer, releasing date and more. Tamil Movies Download Sites
As we all know, almost all Tamil movies get released on Friday in India. For true movie lovers, we have brought the list of all the latest Tamil movie updates regarding the films releasing this Friday.
Upcoming or Latest Tamil movies releasing this week January 10, 2020
Dabar is surely one of the much awaited Tamil movies of not only this week but the year 2020. Yes, Rajinikanth starrer Darbar has been in the news and fans are quite excited to see their favorite superstar on the silver screen again.
Darbar is an action thriller film directed and written by A. R. Murugadoss, and produced by Allirajah Subaskaran under the banner of Lyca Productions. Besides Rajinikanth, Darbar stars Nayanthara, Nivetha Thomas, and Sunil Shetty in the lead roles.
The film is scheduled to release on 9 January 2020, coinciding with Thai Pongal.
Genre: Action Thriller
Director: A.R Murugadoss
Cast: Rajinikanth, Nayanthara, Nivetha Thomas, and Sunil Shetty
Language: Tamil, Hindi and Telugu
2. Anandha Veedu
Anandha Veedu is an upcoming Tamil movie slated to release on January 8, 2020. In order to save from the direct clash with Rajinikanth's Darbar, Anandha Veedu makers have prepooned the release date of the film.
Directed by Vikram Sugumaran, Anandha Veedu stars Nagarajan, Vikram Sugumaran, Durga Prasath and Gagana Deepika as lead characters.
Genre: Family Drama
Director: Vikram Sugumaran
Cast: Nagarajan, Vikram Sugumaran, Durga Prasath and Gagana Deepika
Language: Tamil
This is the list of Tamil Movies releasing this week December 20. You can also check out the list of Bollywood Movies Releasing this week, or Hollywood movies releasing this week as well.
So which movie are you going to watch this week? Do let us know.