Tejashwi Yadav calls Nitish Kumar 'palturam', gets renamed as 'muhalla-level leader'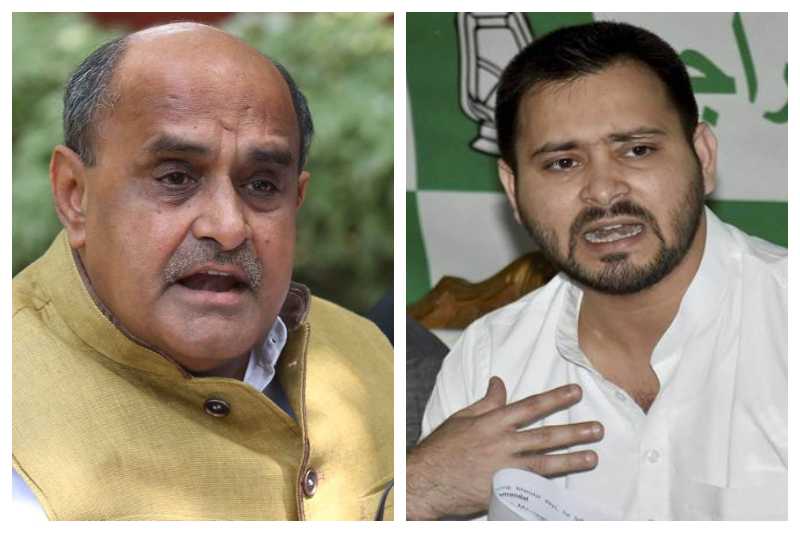 Setting the stage for a comeback under the United Progressive Alliance, ahead of 2019 General Elections, the Janata Dal-United has called current Rashtriya Janata Dal head honcho Tejashwi Yadav a 'muhalla-level leader'. The furious attack of works were made my JD (U) national secretary general K C Tyagi on Yadav's comments that RJD is no mood to align with Nitish Kumar in the 'mahagatbandhan' (Grand Alliance).
Commenting on the status of Yadav, Tyagi stated, ""Who is Tejashwi Yadav? What sort of authority he holds (in UPA)? Kya aukat hai unki? We do not need permission from a muhalla-level leader to get entry into the UPA." Yadav further added, "The kind of statements Tejashwi issued about Nitishji was objectionable and against the basic manner. Nitishji has been politically associated and worked with his father."
Also Read: Tejashwi Yadav: Nitish Kumar now left with less credibility hence no alliance
The exchange of words have shook the political arena of Nitish Kumar government in Bihar which in coalition with BJP. Yadav have earlier Kumar a 'palturam' (turncoat) and have ridiculed him calling Lalu Yadav, asking about his health.
However, Tyagi said that since Kumar and Laluji share old friendship and have political relationship, so hew made a gesture call. the senior JDU leader added that no political conversations took place between the two. He added, "No political talks were held. We wish Laluji a long life, but the way his son spoke is unacceptable."
Also Read: Law and order situation shameful in Bihar: Tejashwi
Though Tejaswi's anger and war of words were well known after the duo split in July last year, Congress leaders in Bihar have felt that Rahul Gandhi should  "extend a helping hand" to the chief minister and associate him in the 'Mahagatbandhan' again., which Tejashwi is against.