Tejashwi Yadav: Nitish Kumar now left with less credibility hence no alliance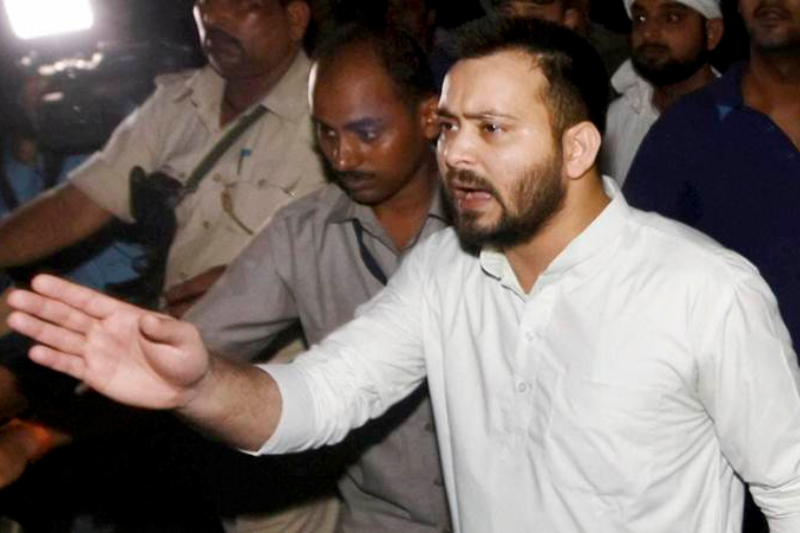 According to Tejashwi Yadav son of Rashtriya Janata Dal's President Lalu Prasad Yadav, on Tuesday chief minister Nitish Kumar was feeling "uncomfortable" in the BJP-led NDA.
Leader of the opposition Tejashwi Yadav also claims that here by the leaders of the RJD's ally Congress will consider Kumar's return to the "mahagathbandhan" if he opts for not going along with BJP tie up.
"They are not authorized to take a decision in this regard," Tejashwi told reporters.
नीतीश कुमार भ्रष्टाचार के धृतराष्ट्र बने हुए है।

उनकी नाक के नीचे ट्रान्स्फर-पोस्टिंग के नाम पर भाजपाई मंत्रियों और उनके चेहतों ने तबादला मंडी मे सरेआम अपनी दुकाने सज़ाकर रेट फ़िक्स किया हुआ है। एकदम खुल्लम-खुल्ला

जो अधिकारी बोली लगाकर मनपसंद जगह जाएगा वह क्या लूट नहीं मचाएगा?

— Tejashwi Yadav (@yadavtejashwi) June 22, 2018
The younger son of RJD president Lalu Prasad said "After Kumar ditched us last year and rejoined the NDA, he tried to sell the idea to the people of Bihar that he had the welfare of the state in mind and that with the NDA in power both at the Centre and in the state, Bihar would be equipped with a double engine that will speed up its development. Nothing of that sort has happened."
One of the RJD successor professed "Even his hopes for grant of a special category status, or at least a special economic package, have been dashed. The Centre has snubbed him on this count and despite being an alliance partner, he is not in a position to confront the BJP on the issue."
Further he added, "In this backdrop, it seems, he (Kumar) is making up his mind for yet another turnaround. The recent assertions by the leaders of his party that the JD(U) was the big brother in the NDA and that it should be given more seats in the next Lok Sabha polls point to that direction."
The former deputy CM commented on the issue saying "But he is now left with little credibility. There is no guarantee that if we, speaking hypothetically, agree to yet another tie-up, he would not ditch us some time later. The door is now closed."
AICC in charge for the state Shaktisinh Gohil said that "the party leadership could take a fresh decision on Nitish Kumar if he severes ties with the BJP."
He continued commenting "I am personally in touch with Rahul Gandhi and we have a mutual understanding that the RJD and the Congress shall be working towards building a long-term partnership. Moreover, it should be remembered that when Gandhi and I recently met on lunch, JD(U) spokespersons called us names and accused both of us being corrupt. I wonder if the Congress would ever forgive the JD(U), of which Kumar is the national president, for that."
Also read: Grand Alliance: BSP-SP could see eye to eye for 2019