Are you snooping on me through CCTV cameras? Tejashwi Yadav asks Nitish Kumar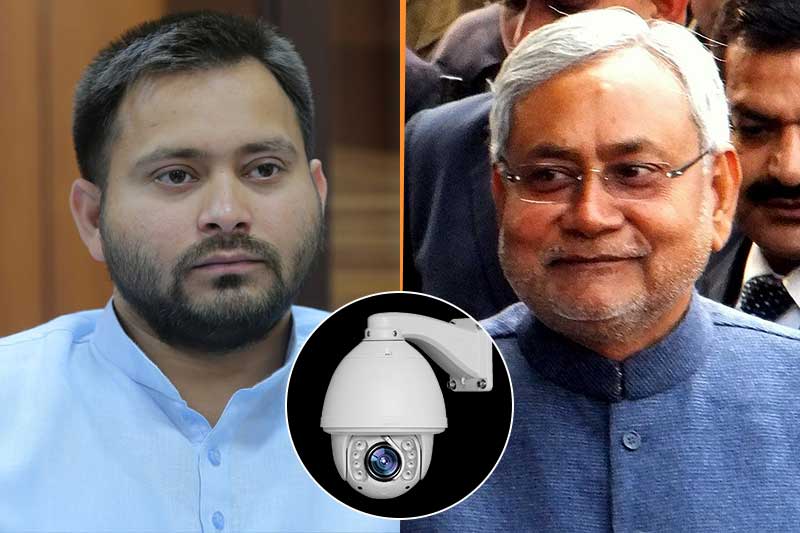 The rift between Rashtriya Janata Dal leader Tejashwi Yadav and Bihar Chief Minister Nitish Kumar took a new turn on Thursday with Yadav accused Kumar of snooping at him by installing CCTV cameras near his residence.
Expressing his anguish, the former deputy CM took to Twitter and stated, "Is this Nitish Ji's paranoia for security or many other insecurities, frustrations and apprehensions with that he has put only CCTV camera right on the boundary wall between his and my residence to snoop over? Why CM needs a camera only there with already a permanent security check post?"
Yadav wondered why Kumar took this step though knowing that his (Yadav) residence has adequate security cover. Jotting down another tweet, Yadav wrote, "Bihar CM's residence is surrounded by main roads from 3 sides and Leader of Opposition's residence from the fourth side. But CM felt the need for CCTV only on the wall bordering his political adversary's residence? Someone should tell him that these petty tricks will prove futile!"
नीतीश जी,आपकी पुलिस और आपको अपनी सुरक्षा का पूरा अधिकार है लेकिन हमारे बेडरूम,आवास के अंदर मुख्य भवन के द्वार, रसोई,आवासीय कार्यालय और आवासीय निजता में 360 डिग्री के HD कैमरा लगाकर ताँक-झाँक करने का अधिकार नहीं है।आप हमारे घर के बाहर मेन गेट पर कैमरा लगवाइए हमें कोई दिक़्क़त नही pic.twitter.com/x1AovXzTUs

— Tejashwi Yadav (@yadavtejashwi) November 15, 2018
Yadav did not stop at this and further advised the state government to tighten the security only when it is needed. The RJD leader wrote, "Bihar govt must tighten the security whenever required for the CM who already has Z+ category and even resides in high-security zone but is it preferable to install high-resolution HD CCTV cameras facing, snooping & interfering the privacy of neighbour?"
Adding more, he wrote, "With every passing second, a heinous crime is committed in Patna region, leave alone the whole State! But autocratic insecure CM is more bothered about snooping into the day to day activities of the Opponents & infringing their privacy rather than the security of the citizens!"
Questioning the CM of the need for occupying three houses, Yadav asked, "Nitish Kumar has occupied three Chief Ministerial Bungalows (2 in Patna, 1 in Delhi). Moreover, one exclusive plush suite in Bihar Bhawan! Why self-proclaimed austere CM of a poor State has this obsession with luxury and grandeur? Has he got any morality to answer this?"
It is to be known that the RJD leader had slammed the BJP-JD(U) government and likened it to 'Rakshas Raj' (reign of the devil). He had said, as quoted by the Indian Express, "These people (NDA leaders) used to talk about 'Jungle Raj' (during the 15 years of Lalu-Rabri rule in Bihar). But there is 'Rakshas Raj' in Bihar today. State-sponsored crime is on the rise. This is the double-engine government of crime and corruption."
This is not the first time the Yadav had attacked JDU chief. The relation between them turned bitter in 2017, which resulted in the separation of the alliance in Bihar.
ALSO READ: Lok Sabha elections 2019: Upset with Nitish Kumar, Upendra Kushwaha meets Sharad Yadav