Lok Sabha elections 2019: Upset with Nitish Kumar, Upendra Kushwaha meets Sharad Yadav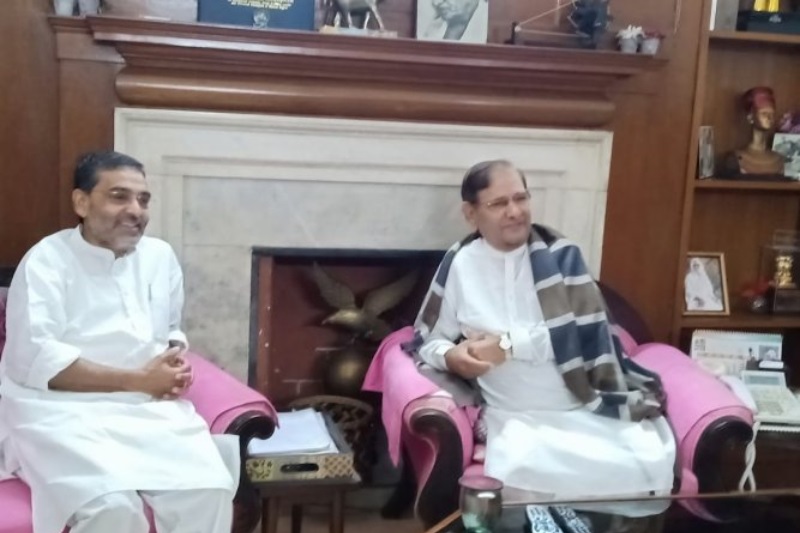 The Lok Sabha elections in 2019 might not be a cakewalk for the National Democratic Alliance, as the differences over the seat sharing among the parties is in a fix. Parties in Bihar seems to tussle the most, with Rashtriya Lok Samata Party (RLSP) chief Upendra Kushwaha and CM Nitish Kumar do not share a good relation. Miffed with this, Kushwaha met Loktantrik Janata Dal party founder Sharad Yadav in New Delhi on Monday.
Upset with Kumar, Kushwaha alleged that the CM has been trying to poach MLAs. He said, as quoted by ANI, "He has come down to destroying Upendra Kushwaha and his Party but he cannot cause any damage to me. He is a part of the NDA and so are we, he should not do such things."
According to reports, RLSP MLAs Sudhanshu Shekhar and Lalan Paswan met top JD(U) leaders — including national vice-president Prashant Kishor — on Sunday, where they were promised a ministerial berth and the Sasaram parliamentary seat.
With the latest development, Kushwaha even compared Kumar to dowry seekers. He said, "Nitish Kumar should know that just as taking and demanding dowry is a crime, poaching MLAs is as much a crime… I am seeking time to meet Amit Shah and will also speak to LJP chief Ram Vilas Paswan."
Kushwaha then met Sharad Yadav, as NDA offered maximum seats to the JD(U) and RLSP was offered only two seats in the ally. As per the reports, Kushwaha doesn't want to settle down below four seats, as it won three MP seats in 2014. It is to be known that in 2014, JD(U) could only manage to win two seats.
Lok Sabha elections in 2019 are just months away and the relation between the allies of NDA do not look swift. The BJP has till now not interfered in the rift between the JD(U) and RLSP, and if the situation persists, looks like even 25 seats won't be a possibility for NDA in 2019.
ALSO READ: Nitish Kumar wants to quit as CM beyond 2020 elections, claims Upendra Kushwala