Telangana Floods: Holiday Announced For Private Institutions; Scary Visuals Of Heavy Pouring Goes Viral-Watch
Telangana Witnesses Heavy Rainfall Which Leads To Flooding. Scary Visuals From The State Goes Viral On The Internet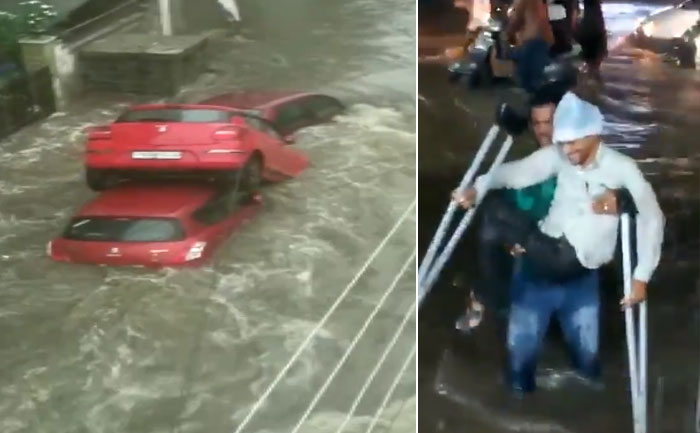 Reportedly, around 15 people have lost their lives due to the heavy rainfall and flooding incidents in Hyderabad (Telangana). The Indian Meteorological Department has issued an alert for the state, including few other districts, as the heavy downpour causes waterlogging in many parts of the state. Scary videos of netizens juggling with the flooded water and cars floating on top of each other go viral on the internet today.
Check out the viral videos to know about the damage caused due to the heavy rain in the South region.
#WATCH Telangana: A car collides with other cars after getting washed away in New Bowenpally area of Hyderabad.

Heavy downpour has created a flood-like situation in several areas of the state capital. pic.twitter.com/y9nfe09VIO

— ANI (@ANI) October 14, 2020
This was the scariest among all😱😢😓#HyderabadRains pic.twitter.com/HEbe3sjzem

— Anusha Puppala (@anusha_puppala) October 13, 2020
Most frightening video of a man being washed away in the force of the flood waters at #Barkas near #Falaknuma; not very sure if he could be rescued; unimaginable that regular roads can look like fast-flowing streams #HyderabadRains; video shared by Ruby channel @ndtv @ndtvindia pic.twitter.com/iS1LvvZ6ki

— Uma Sudhir (@umasudhir) October 14, 2020
Renovating Secretariat was more important with whopping budget of 700 crores than improving drainage system in city

Water clogging to an extenet that whole city gets into mess.

Car will get punctured if this continues @TelanganaCMO #HyderabadRains @ShefVaidya pic.twitter.com/blc9iOHbHb

— Sheetal Chopra (@SheetalPronamo) October 13, 2020
Heavy #Rain at Koti X Road opp to SBI & other places of #Hyderabad one Police Man namely Shehbaz helping people and taking them safely to there destination.
Much appreciated work Hero Shehbaz #HyderabadRains #RainOnMe #RainyDay @TelanganaDGP @CPHydCity pic.twitter.com/5gU4gBLVTv

— Arbaaz The Great (@ArbaazTheGreat1) October 9, 2020
Devastating rains. #Madanpahad area of #Hyderabad. Hyderabad #Bengaluru highway damaged, this road connects city to @RGIAHyd airport as well.@indiatvnews#HyderabadRain #HyderabadFloods #HyderabadRains pic.twitter.com/bS4Hs4yS6M

— T Raghavan (@NewsRaghav) October 14, 2020
This is the situation in #Hyderabad after torrential rains. Govt has issued an advisory asking all locals to stay indoors #HyderabadRains pic.twitter.com/WOxWw6KDYF

— Akshita Nandagopal (@Akshita_N) October 14, 2020
For all the news and gossips, stay hooked on to The Live Mirror.
Also Read: Hyderabad: 9 Killed In Wall Collapse As Rain Wreak Havoc