Telangana has entirely rejected Congress says Asaduddin Owaisi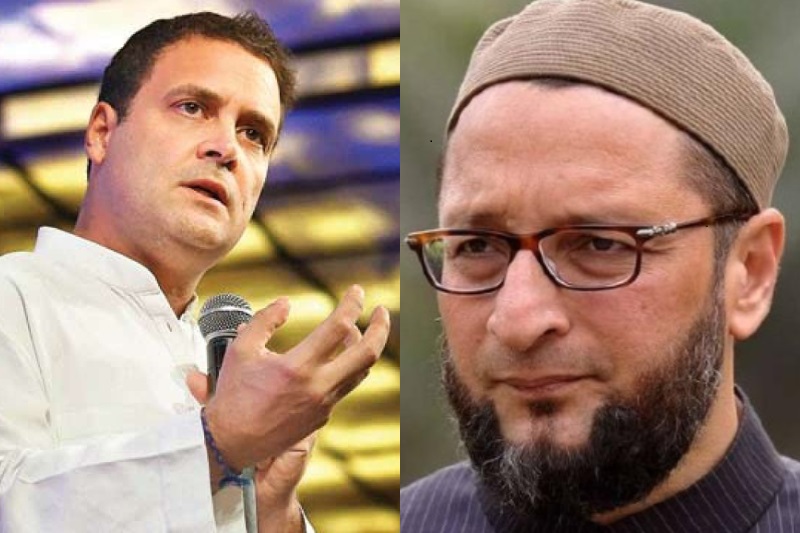 After performing well in the Telangana Assembly elections 2018, All India Majlis-e-Ittehadul Muslimeen president Asaduddin Owaisi slammed Congress chief saying that Congress has been completely rejected by the people of the state, reported Zee News
Responding to Rahul Gandhi's C team remark, Owaisi said that the result of the Telangana Assembly poll 2018 shows that Congress is no team at all.
Rahul Gandhi had earlier said that, "TRS is the BJP's "B" team" and Telangana Chief Minister K Chandrashekar Rao, "operates" as Prime Minister Narendra Modi's "Telangana Rubber Stamp".
"It is time for Rahul Gandhi to introspect because people of Telangana have outrightly rejected Congress. I said that the TRS would perform very strong and that our AIMIM too would be backed by people and that is what has happened," he said.
Talking to news agency ANI, Owais said, "After seeing K Chandrasekhar Rao from very close quarters I feel that this nation deserves a leader like him&I hope that next step he'll take will be successful&I'll stand shoulder to shoulder with him ensuring that in '19 election there's a non-Congress & non-BJP govt."
"I say this with all responsibility that K Chandrasekhar Rao has all capabilities & capacities to ensure that a non-Congress govt comes into existence when the next parliament election takes place & this country requires a non-Congress & a non-BJP govt," Owaisi added.
The AIMIM chief then congratulated K Chandrashekhar Rao and said that the result enables the winners to work for the development of the state and for the welfare of the people.
Also read: Asaduddin Owaisi sacks corporator for ignoring his instructions