The Batman: Colin Farrell Is Unrecognizable as the Penguin
The Batman: Colin Farrell's Penguin Steps Into the Daylight; Check Out First Look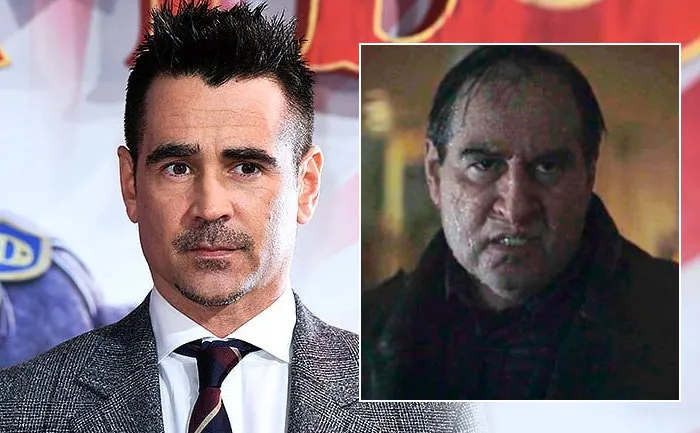 The Batman featuring Robert Pattinson as the caped crusader is one of the most awaited films. The cast and crew have resumed the shoot in the U.K. with director Matt Reeves at the helm. Pictures from the sets are creating a buzz on the internet. Recently we caught the first glimpse of actor Colin Farrell as the Penguin. He is looking totally unrecognizable.
The 44-year-old looked unrecognizable in facial prosthetics along with a black leather trench coat. He also sported a black suit with a lavender button-down shirt as he played The Penguin. Farrell also carried a black umbrella while he and Kravitz shot a scene in St. George's Hall in Liverpool.
Check out his viral picture here:
Colin Farrell looks unrecognizable as Oswald Cobblepot/The Penguin on the set of "The Batman" with Robert Pattinson & Zoe Kravitz – see the set pics! https://t.co/ScjGi00Rla

— JustJared.com (@JustJared) October 12, 2020
In the picture, Colin Farrell can be seen alongside Zoe Kravitz's Selena Kyle and Robert Pattinson's Bruce Wayne. The trio is at a funeral. Farrell is unrecognizable behind all of the makeup and prosthetics.
The Penguin had appeared briefly in the trailer, with many wondering if it is truly Farrell under heavy prosthetics. The actor has undergone quite the transformation to take on the role. He has reportedly gained weight and the makeup artist Mike Marino has ensured that Farrell looks completely different in the film.
The Batman is scheduled for release on March 4, 2022.
Also Read: Robert Pattinson Reportedly Tests Positive for COVID-19, The Batman Shoot Suspended