The Batman: Leaked Pics Reveal First Look at Batcycle & Catwoman
The Batman' Leaked Images Reveal Batcycle, Full Batsuit and Zoë Kravitz's Catwoman too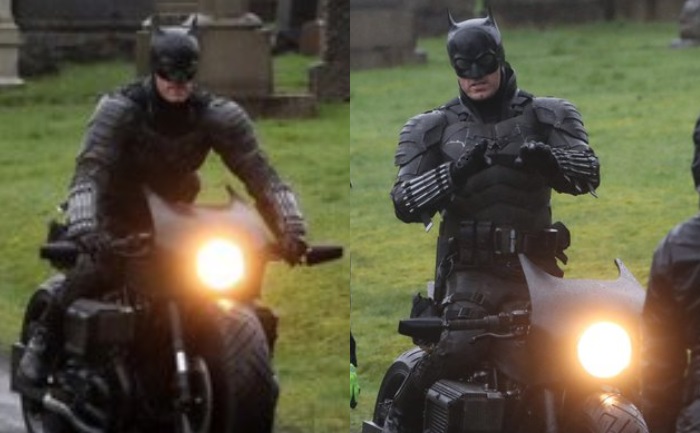 Robert Pattinson starrer The Batman is one of the most awaited films. The anticipation surrounding it has been growing with each passing day. Leaked pictures from the sets of the film have added to it. Recently Pattinson had shared the first look of the Batsuit. We now have some leaked pictures and videos from the sets in Glasgow that have set the internet on fire.
The series of leaked images and a 12-second video taken from the set of "The Batman" reveal the first look at the Batcycle and the full Batsuit. It also gives a glimpse of Zoë Kravitz's Catwoman too.
Catwoman incoming!

Meow!!! pic.twitter.com/jRFdv3wG6y

— The Battinson??? (@BattinsonBatman) February 21, 2020
In a short clip, the caped crusader is seen riding a bike before falling off it. A stunt double seems to be practicing with the batsuit on as he rides the bat motorcycle.
First footage from #TheBatman ? pic.twitter.com/FWGgOvzecF

— The Weekly Planet (@TheWeeklyPlanet) February 21, 2020
This version of the suit is heavily armoured, with spiked wrist gauntlets. Batman is also seen riding a streamlined version of the Batcycle.
I heard that this was filmed in Glasgow. I take it that Batman had the living-shit kicked out of him shortly afterwards. #Batman #Glasgow pic.twitter.com/aWwurWsXBr

— John Smith (@LatticeneckJohn) February 22, 2020
Are they filming #TheBatmanMovie up the Necropolis in Glasgow? #Batman https://t.co/ZqBpaLUuoE

— Ben Armstrong Marshall (@bcamarshall) February 22, 2020
The Batman has Robert Pattinson as Batman, Zoe Kravitz as Catwoman, Colin Farrell as the Penguin, Paul Dano as the Riddler, Jeffrey Wright as James Gordon and Andy Serkis as Alfred Pennyworth.
The Batman, scheduled to release in 2021.
Also Read: 'The Batman' Star Robert Pattinson Named World's Most Handsome Man