The Conjuring 3: How to Watch The Scariest Movie For Free
The Conjuring: The Devil Made Me Do It Free Streaming: Where to Watch Online?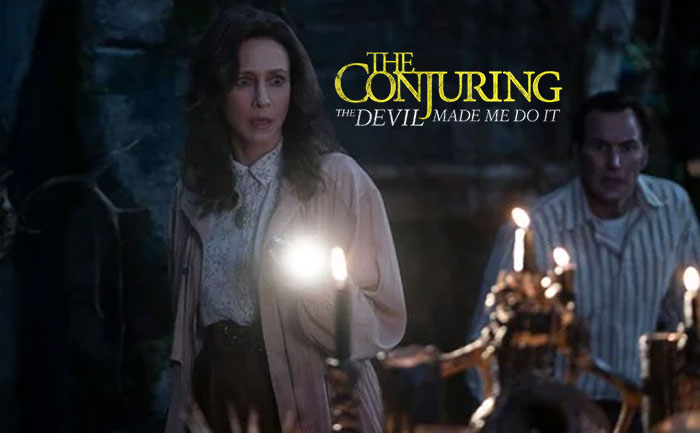 The Conjuring: The Devil Made Me Do It is the eighth installment in the Conjuring universe. It is a sequel toThe Conjuring (2013) and The Conjuring 2 (2016). The supernatural flick is directed by Michael Chaves and also features Ruairi O'Connor, Sarah Catherine Hook, Julian Hilliard, and John Noble.
The movie is based on the trial of Arne Cheyenne Johnson. In 1981, Arne Johnson was charged with murdering his landlord during a heated argument. This is believed to be the first murder case in the US where the defense sought to prove the offender's innocence with claims of demonic possession. Johnson tried to plead not guilty by reason of demonic possession. But he was eventually convicted and sentenced to prison for 20 years, though he only served five years.
In 'The Conjuring: The Devil Made Me Do It' Patrick Wilson and Vera Farmiga are reprising their roles as paranormal investigators Ed and Lorraine Warren. The paranormal investigators risk their lives to prove the innocence of the accused and the existence of evil forces. This was in the first U.S. murder trial where demonic possession is being used as a legal defense.
But will they be able to do so? To know watch The Conjuring: The Devil Made Me Do. The movie has premiered on HBO Max and in theaters on Friday, June 4. But for those who do not have an HBO Max subscription. You can watch the movie online for free.
Here is how you can watch Conjuring 3 online for free:
1. Hulu With HBO Max:
While HBO Max doesn't have a free trial, customers can still try out the service for free via Hulu's HBO Max free trial. The service allows users to try both Hulu and HBO Max for free for seven days. Just set up a reminder to cancel your subscription before you're charged. For after the trial ends the service will cost $14.99 to add HBO Max to one's Hulu account.
AT&T Free Subscription:
If you're an AT&T customer you may be eligible for a free HBO Max subscription. If you have AT&T Unlimited Elite or AT&T Unlimited Plus, AT&T Unlimited Plus Enhanced, AT&T Unlimited Choice, AT&T Unlimited Choice II, AT&T Unlimited Choice Enhanced, and AT&T Unlimited & More Premium. If you have one of these plans, you're eligible for a complimentary HBO Max account.
The Conjuring 3 is available to stream on HBO Max.
Watch the trailer of Conjuring 3 here:
Also Read: The Conjuring 3 Release Date, Trailer, Cast, Story & Everything We Know So Far