The Intern: Deepika Padukone and Amitabh Bachchan reunite, see poster
After 'Piku.' Deepika Padukone and Amitabh Bachchan will be yet again reuniting for 'The Intern.'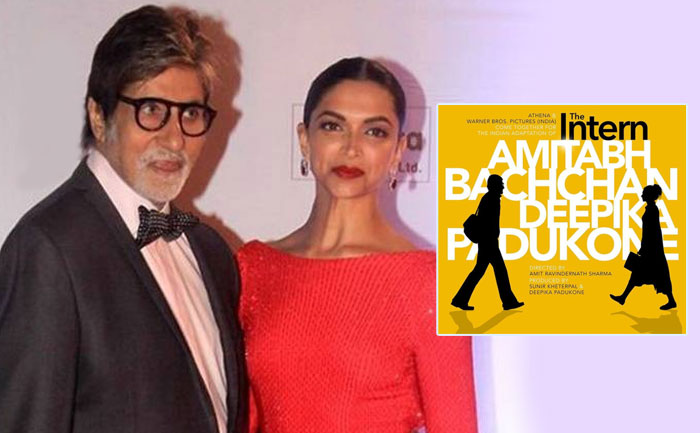 Deepika Padukone and Amitabh Bachchan will be reuniting yet again for the Hindi remake of 'The Intern.' Earlier, the film was originally supposed to star the late actor Rishi Kapoor before his untimely demise last year. On Monday, the 'Bajirao Mastani' actress shared the poster of the film and expressed her excitement about working with Big B.
DP shared the poster and captioned it as: "What an absolute honour to be collaborating with one of my most special co-star again!💛 Welcoming @amitabhbachchan to the Indian adaptation of #TheIntern. Produced By: @_kaproductions @athenaenm @warnerbrosindia. Co-Produced By: @pictureschrome. Directed By:
@iamitrsharma. Written By: @akshatghildial @meetmshah"
Check out the poster:
View this post on Instagram
Big B also shared the poster and wrote: "One more time .. Indian Adaptation of #TheIntern. Looking forward to working with @iamitrsharma @deepikapadukone @warnerbrosindia @sunirkheterpal @athenaenm @_kaproductions @pictureschrome @denzildiaswb @gauravbose_vermillion @aleya.sen @hemantbhandari @akshatghildial & @meetmshah"
Deepika and Amitabh previously worked together in Shoojit Sircar's 2015 comedy-drama film, 'Piku.'
'The Intern' is a remake of the Hollywood movie of the same name. The film starred Robert De Niro, Anne Hathaway, Rene Russo, Anders Holm, Andrew Rannells, Adam DeVine, and Zack Pearlman. The plot follows a 70-year-old widower who becomes a senior intern at an online fashion website, where he forms an unlikely friendship with the company's workaholic CEO.
The release date of the film is yet to be announced.
ALSO READ: Ram Setu: 45 Crew Members Test Positive For COVID-19