Australia Bush Fire: Thousands evacuate to sea as Mallacoota town burns
Thousands Trapped On Australia Beaches Encircled By Fire. Read On To Know Details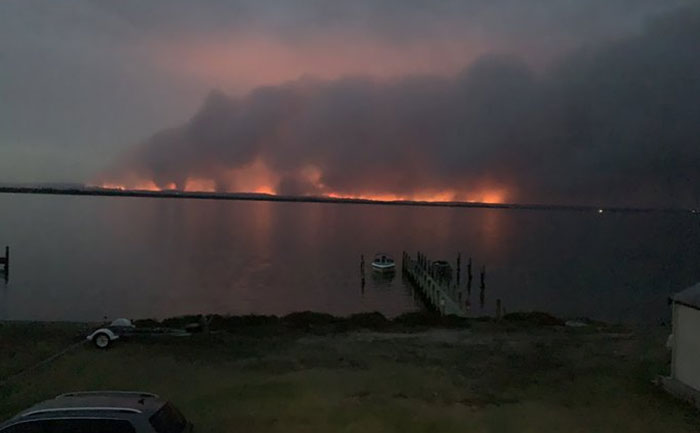 Thousands of holidaymakers and locals were trapped on a beach in fire-ravaged southeast Australia on Tuesday. As many as four thousand people are trapped on the foreshore of the encircled seaside town of Mallacoota. Thousands of tourists and residents in an Australian seaside town of Mallacoota hunkered down in public buildings or waded into the water at the seafront The smoke has turned day to night and the nearby fires were causing extreme thunderstorms and "ember attacks".
Social media posts by some of the thousands of people still in Mallacoota showed blood-red, smoke-filled skies.
When you have to evacuate I to the sea. #Mallacoota #AustralianFires https://t.co/nI30S1vpcx

— Barbara Malmet (@B52Malmet) December 31, 2019
Robert Phillips, co-owner of a Mallacoota supermarket, told Reuters.  "There are spot fires all over the place – the embers are blowing everywhere down the main street. There are a lot of kids in here that can't breathe properly."
Reports of a huge scale seas side evacuations are on.
HELICOPTERS & FERRIES are coming to evacuate the people from the beach in Mallacoota. Army and Navy will assist. All roads are cut off, Just heard the Vic Premier announce it. Stay safe everyone xx #Mallacoota #NSWbushfires

— ?Princess Gemma (@Gemmasparkle) December 31, 2019
Australia's unprecedented bushfires have been burning for months, but a new heatwave and high winds have wrought new devastation. As reported by the Bureau of Meteorology in Victoria, the bushfires in Australia are now so big that they are generating their own weather, in the form of giant thunderstorms that start more fires.
Pyro-cumulonimbus clouds have developed to altitudes over 16km in East #Gippsland this afternoon. These fire-induced storms can spread fires through lightning, lofting of embers and generation of severe wind outflows #VicWeather #VicFires pic.twitter.com/gZN6sC7meU

— Bureau of Meteorology, Victoria (@BOM_Vic) December 30, 2019
The blazes have destroyed more than 1,000 homes and scorched more than three million hectares (7.4 million acres).
Also Read: Australia Bushfires: Danger for Sydney as new blazes break out