TMC's Mahua Moitra assaults female constable at Silchar Airport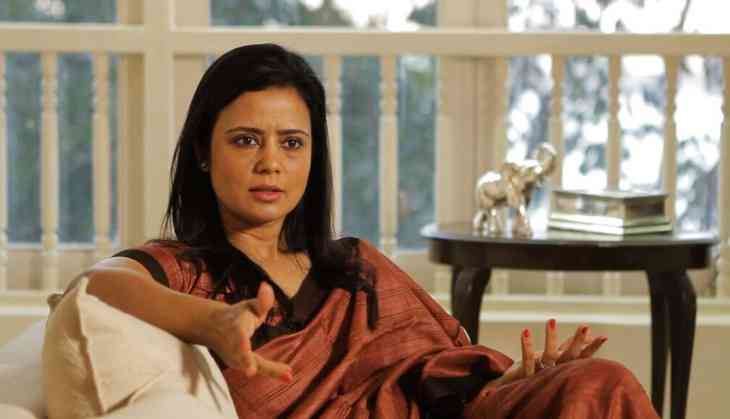 TMC politician Mahua Moitra who one of the eight-member team to travel to Assam to address the rallies got into a fist-fight with a female constable at the Silchar Airport.
#WATCH: TMC's Mahua Moitra seen assaulting lady constable who tried to restrain Mahua Moitra after TMC leaders were stopped at Silchar Airport. Constable received injuries. #NRCAssam pic.twitter.com/FJjNQ77ngO

— ANI (@ANI) August 2, 2018
A lady constable who received injuries while trying to restrain TMC's Mahua Moitra at Silchar Airport. Constable was seen pleading with Moitra to stop protesting. #aAssam pic.twitter.com/gE163x5iSK

— ANI (@ANI) August 2, 2018
Copies of medical reports of constables who restrained TMC leaders in Assam's Silchar. They make allegations of physical assault on them by TMC leaders pic.twitter.com/wiLcjnkq3j

— ANI (@ANI) August 2, 2018
Lawmakers of Trinamool Congress sent to take a stock of the ground realities in Assam, have been stopped at Silchar airport on Thursday. The TMC leaders have called this a situation of 'super emergency'. The eight-member team, comprising of legislators and parliamentarians from West Bengal, was supposed to address rallies in Assam on the National Register of Citizens (NRC) issue. TMC politician Derek O Brien raised this issue in the parliament today.
Sharing concerns over the NRC report, West Bengal Chief Minister had a verbal disagreement with BJP president Amit Shah since last couple of days. Banerjee said, "Who are they? What significance do they have in West Bengal? Nobody knows them. They are just some hooligans. Their existence itself is in question & they will implement NRC here? I will see how they intervene". Earlier, the party had announced on Tuesday that a delegation will be visiting Assam for NRC on August 2-3. The team comprises of six MPs (Sukhendu Sekhar Ray, Kakoli Ghosh Dastidar, Ratna De Nag, Nadimul Haque, Arpita Ghosh and Mamata Thakur) and State Minister Firhad Hakim and Mahua Moitra, MLA.