Daily Horoscope 23th July 2019: Check Astrological Prediction For Aries, Capricorn & Pisces
Today's Horoscope for zodiac sign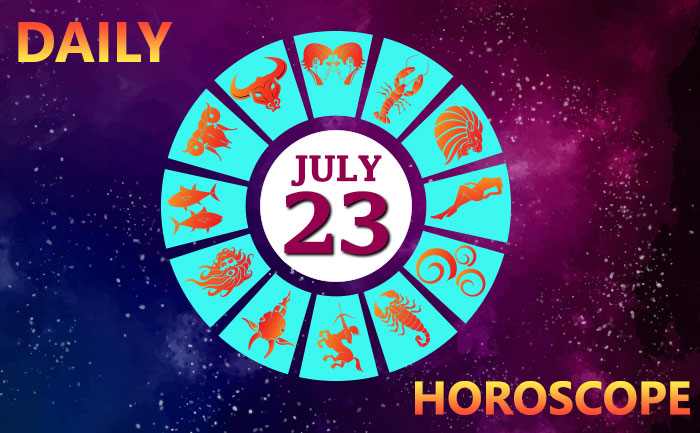 Horoscope Today 23rd July 2019: IF TODAY IS YOUR BIRTHDAY:  Your radical number is 5 ruled by Mercury. You are a talented person always on a go. You are an intelligent, friendly and sharp person. Career-best for you will be politics, sales and writer. Lucky colours are Red and Green. Lucky days are Wednesday and Friday. 
Here's your daily horoscope as per your sun sign:
Daily Horoscope ARIES
A positive day lies ahead of you, a trip may be on the cards, it can be either related to business or maybe a personal trip. Seems like this will be a good weekend for you anyway. Exciting day as you receive a call from your beloved. Do listen to the advice given by others. Lucky colour is red and the lucky number is 4.
Daily Horoscope TAURUS
Today you are meant to put a smile on your own face. But at the cost of wrong choices, you can easily destroy your future. Ensure that you do things with a very focused yet calm mindset. the lucky number today is 1 and the lucky colour is amber.
Daily Horoscope GEMINI
Today is a fantastic day for you and you will be on a winning spree. Your communication skills are at its best, use this to your advantage.  A social event or gathering that involves work could put you in touch with interesting people.  Navy blue is the lucky colour and the lucky number is 9.
Daily Horoscope CANCER
You have this sudden urge to get all your unfinished work done. You also want to return all the borrowed things. Just ensure that they are in good shape. You also want to be careful regarding what you are keeping and discarding. Brown is a lucky colour and 5 is the lucky number.
Daily Horoscope LEO
You may give cause for someone to antagonize you today. It is well known that you make a delightful friend, but a terrible enemy. The day could very well put you in a dilemma today to forgive or seek vengeance. The lucky colour today is light pink and the lucky number is 1.
Daily Horoscope VIRGO
Today all kinds of relations you have with people will become stronger. But that can mean distraction to the work you are doing. Being a good day, you won't feel tired. You will also have a sudden urge to travel. Orange is your lucky colour while 2 is the lucky number.
Daily Horoscope LIBRA
Those who are waiting to hear if you have received that new job, good news may very well come your way soon. Share your happiness with others and don't overspend to impress. Your love partner will surprise you with something really beautiful. The lucky colour today is light pink and the lucky number is 1.
Daily Horoscope SCORPIO
You are in a celebratory mood today and up for new beginnings. But be careful. Don't buy stuff because they look pretty but buy only because you need it. Getting into financial trouble will dampen the happy mood. Your lucky colour today is white and the lucky number is 7.
Daily Horoscope SAGITTARIUS
Today try not to get involved in any unnecessary arguments with those close to you.  Choose your words and your battles wisely. A current or potential love partner might decide to come with you, creating a new venue for bringing you closer together. Your lucky number is 4 and your lucky colour is silver.
Daily Horoscope CAPRICORN
Today is a good day. You have a lot of energy right now but you will have to channelize it well. You will have to take care of your presentation really well as to how you do will speak more than what you do. Your lucky colour is orange and the lucky number is 11.
Daily Horoscope AQUARIUS
Today will have you worked up about some pending tasks that could have come in at the last minute.  Do not panic, Aquarius simply let go of your laziness and re-organize your schedule to include the new workload.  Do have faith in your actions. Your lucky colour is pink and the lucky number is 6.
Daily Horoscope PISCES
Today you may think that non-socializing is the best thing that you can do. But on the other hand, you may want to propose your partner as well. Today you have a lot to say but you need to be very careful about what you say. your lucky colour is clear blue and the lucky number is 5.
Also Read: Cancer Love Horoscope: Personality, Traits, Compatibility and Celebs Born Under This Sign