Tripura : Army saves over 1,380 natives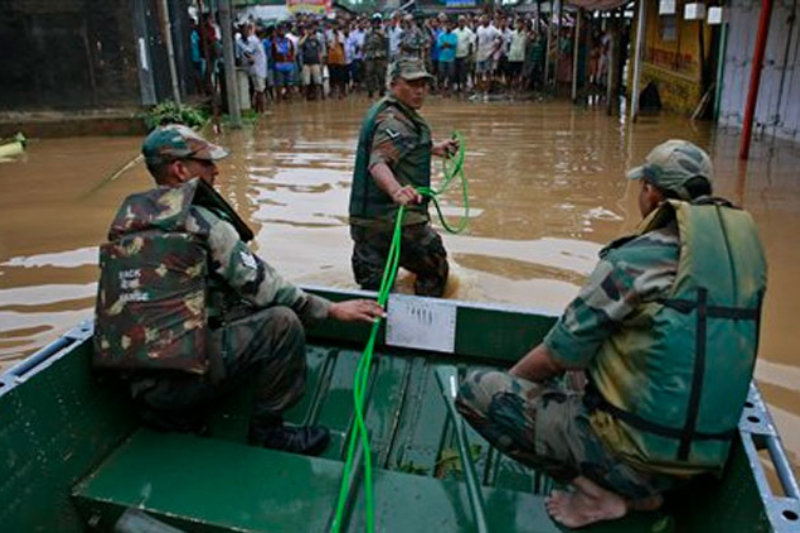 A total of 430 persons have so far been evacuated from flood-affected areas of Manipur and more than 950 rescued in Tripura by Assam Rifles and Army personnel, a defence statement said here on.
"So far, a total of 430 citizens have been evacuated from Irong, Maibam, Uchiwa, Arapati, Kiyamgei, Achanbigai and Mongjam villages of Thoubal, Imphal East and Imphal West Districts of Manipur by columns of Assam Rifles and Indian Army with operations still on," it said.
More than 950 have been rescued from Kailashahar, Indiranagar, Fatikroy, Santail, Kumarghat in Tripura and as of now, more than 2,000 people are being sheltered at relief camps in the state's Kailashahar.
"A total of six columns are operating in the state after responding to request from civil administration," an official spokesperson said.
In addition to the relief and rescue operations, maximum possible assistance is being provided to the civil administration by Assam Rifles and the army in terms of establishing shelters, relief camps, distribution of emergency rations, drinking water supply and repair of embankments, the statement said.
A large number of medical teams have been deployed to cater to the affected populace in these two states reeling under the effects of the flood, it added.
Image Source – The Indian Express