'Magnificent Mary': Twitter erupts in joy as Mary Kom lifts sixth World Championship title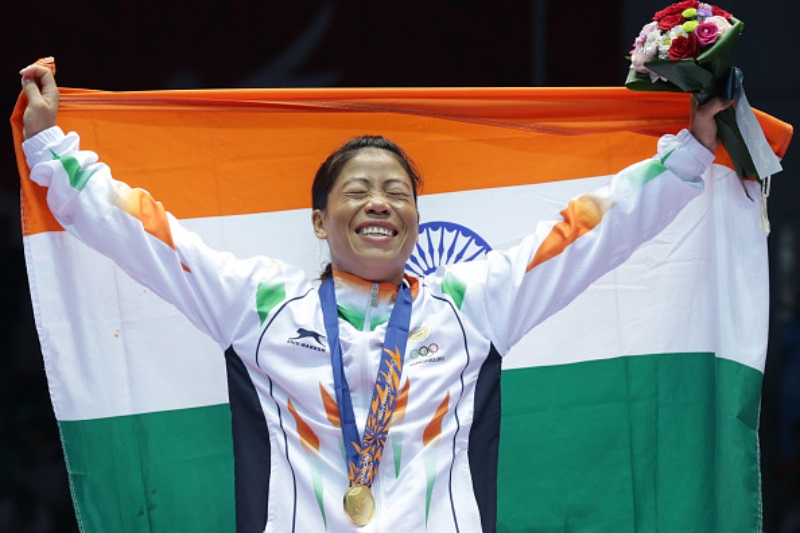 Mary Kom on Saturday scripted history by winning a sixth gold medal at the AIBA World Women's Boxing Championship that made her most decorated women's boxer of all time at the tournament.
Her 5-0 victory over Ukraine's Hanna Okhota via a unanimous verdict in the 48kg category helped her overtake Irish legend Katie Taylor (five gold and a bronze) as the most successful female boxer at the world championship. Adding to her unprecedented six gold medals, super Mary had also clinched a silver in the inaugural edition of the championship in 2001.
Even as the 35-year-old, mother of three, broke into tears holding the national flag high and upwards inside the ring, Twitter couldn't stop praising one of the greatest female boxers of all time.
She later took to social media to thank her coaches and the entire nation for its support. "I have done my duty," wrote super Mary on Twitter.
I have fulfilled my duty. I thank my coaches, support staffs @BFI_official @IndiaSports @Media_SAI for all the supports and beloved in me. pic.twitter.com/DbocgISmSH

— Mary Kom (@MangteC) November 24, 2018
Here are few reactions from big and eminent personalities:
A proud moment for Indian sports.

Congratulations to Mary Kom for winning a Gold in the Women's World Boxing Championships. The diligence with which she's pursued sports and excelled at the world stage is extremely inspiring. Her win is truly special. @MangteC

— Narendra Modi (@narendramodi) November 24, 2018
MAGNIFICENT MARY!

CONGRATS to @MangteC for the GOLD in Women's World Boxing Championships in 48 kg category!

With this, she hs become the FIRST EVER female boxer to win 6 World Championships!

A fabulous achievement by a wonderful athlete! Wt a proud day for us all! #MaryKom pic.twitter.com/kd12D8Ii4T

— Rajyavardhan Rathore (@Ra_THORe) November 24, 2018
World's best woman boxer and now it's official. @MangteC, you have been fabulous. Congratulations on winning your record 6th Gold medal at the World Women's Boxing Championships. You're an inspiration for every young athlete. #WWCHs2018 #MaryKom pic.twitter.com/ebj6LWY9K7

— Sachin Tendulkar (@sachin_rt) November 24, 2018
You are an Inspiration @MangteC.. Magnificent Mary Clinches Gold For 6th time. More Power To You ?#MaryKom pic.twitter.com/NOJ2jFeZMg

— Vijender Singh (@boxervijender) November 24, 2018
A stellar achievement for #MaryKom , becoming the first woman boxer to win six world championship Gold. One of India's greatest ever sportsperson. Super happy and super proud ! pic.twitter.com/jw2V4QBulo

— Virender Sehwag (@virendersehwag) November 24, 2018
Heartiest Congratulations to a living legend, @MangteC for making India proud once again with her record 6th World Championship Gold . #MaryKom pic.twitter.com/J4cBMUKf0Q

— VVS Laxman (@VVSLaxman281) November 24, 2018
Not sure I can say anything more than has already been said about the kind of champion that she is. Mary Di, we owe you for all the inspiration you've served us with year after year. @MangteC

— Sunil Chhetri (@chetrisunil11) November 24, 2018
Congratulations Wonder Woman.. Incredible !!! #MAGNIFICENTMARY #worldchampion https://t.co/O3DtNFIWm6

— Mahesh Bhupathi (@Maheshbhupathi) November 24, 2018
What an inspiration @MangteC ! Congratulations on the historic 6th GOLD #MaryKom pic.twitter.com/d3wuHNy319

— Mohammad Kaif (@MohammadKaif) November 24, 2018
Heartiest congratulations to #MaryKom for creating history, by clinching record 6th World Boxing Championship Gold#WWCHs2018 pic.twitter.com/DFzvuJBa3b

— Sushil Kumar (@WrestlerSushil) November 24, 2018
Congratulations @MangteC didi on winning historic 6th World title. More power to you. We all are proud of you.? #PunchMeinHainDum #MaryKom

— Hima Das (@HimaDas8) November 24, 2018
Congratulations @Mangtec for winning the World Championship Gold Medal in Women's Boxing. You are a true inspiration for all of us. Take a bow… #MaryKom

— Ashwin Ravichandran (@ashwinravi99) November 24, 2018
A salute to one of #India's tallest sporting legends, @MangteC ? Congratulations on being crowned a #WorldChampion for the 6th time! You truly are a massive source of inspiration and motivation! #AIBA #WomensWorldBoxing

— Vinesh Phogat (@Phogat_Vinesh) November 24, 2018
Congratulations Champ!! So proud to see you creating history ?????? @MangteC you are a wonderwoman !#MaryKom

— Anushka Sharma (@AnushkaSharma) November 24, 2018
An epitome of inspiration @MangteC wins her record sixth world championship gold! It's a moment of immense proud for entire nation! Big congratulations! #MaryKom pic.twitter.com/I5aqIKTLW8

— Suresh Raina?? (@ImRaina) November 24, 2018
Gold No. 6 for MAGNIFICENT MARY and medal No. 7 in World Championships. Truly a legend like no other ⁦@MangteC⁩ – What an inspiration pic.twitter.com/tMNaqjOHid

— Viren Rasquinha (@virenrasquinha) November 24, 2018