Twitterati supports Surf Excel; slams right wing supporters demanding boycott
Twitterati supports Surf Excel's Holi advertisement; slams right wing supporters demanding boycott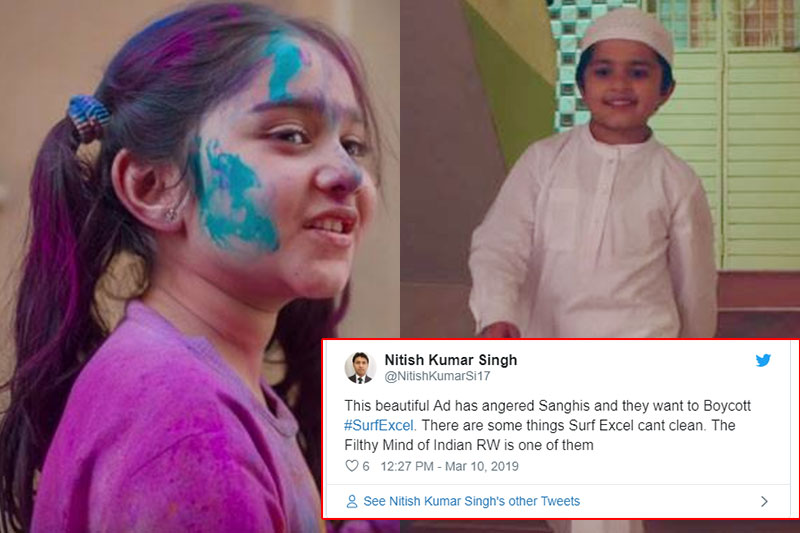 Holi is also called as the "festival of love" as on this day people get to unite together forgetting all resentments and all types of bad feeling towards each other. To celebrate Holi, Surf Excel came up with an advertisement which shows that "daag achhe hai" in a whole new concept, with a heart touching message.
In the ad, we can see a non-Muslim girl guiding her Muslim friend, who is making an attempt to reach the mosque dressed without getting smeared by Holi colours. This ad is quite impactful and shows how human relationships can go beyond the boundaries of religion. Unfortunately, the ad did not go well with some right-wing supporters. Take a look:
The right-wing supporters, who thought that Hindustan Unilever is promoting love jihad through the advertisement, demanded a complete boycott of its products. It is to be noted that Love Jihad means that Muslim men marry Hindu women in order to get them to convert. Also, #BoycottSurfExcel has been trending on Twitter for the past few days.
As soon as more people came to know about the controversy surrounding the advertisement, they came in support of Hindustan Unilever and its product Surf Excel. Thousands of people are defending the ad. Check out here:
Cannot believe people are actually offended by the secular surf excel ad that promotes Hindu-Muslim harmony.
A Hindu girl provokes all her water balloon busters to fling colourful balloons on… https://t.co/U7NslaCBDE

— Ajatika Singh (@Ajatikaa) March 11, 2019
This beautiful Ad has angered Sanghis and they want to Boycott #SurfExcel. There are some things Surf Excel cant clean. The Filthy Mind of Indian RW is one of them pic.twitter.com/sr6oCcm344 https://t.co/VehyGYn67A

— MohsiN (@Mohsin_shaikh01) March 10, 2019
Such a beautiful Ad. Watched it after many years.
?Thanks to The Politics.
The Ad depicts #India through the eyes of innocent/naughty lovely Kids. Why should one attack #SurfExcel ? #trueIndianBhakt

— Shrey Dixit (@dixit_shrey) March 11, 2019
दाग़ अच्छे हैं ।#SurfExcel #Surf_Excel_India @surfexcel

— Syed Kumail Zaidi (@SyeDDehelvi) March 11, 2019
Meaningful video #SurfExcel #HindustanUnilever

— Pramod Kumar Singh (@0401Singh) March 11, 2019
दाग़ अच्छे हैं ।#SurfExcel #Surf_Excel_India @surfexcel

— Syed Kumail Zaidi (@SyeDDehelvi) March 11, 2019
I personally liked the Surf excel ad.But some of my friends were unhappy. They complained that it brought subtle religious overtones. While I still have nothing specific against the ad itself, I try to place the anger and religious implications in a historical context (4/4)

— True Indology (@TrueIndology) March 10, 2019
The #RangLaayeSang advertising is the only one feeling we need as of now.
Good work @surfexcel #Holi2019

— A.S.Jadhav (@akshayj10437193) March 11, 2019
It is worth mentioning here that the support posts related to the ad have overtaken the number of angry reacts on the same.
Also Read: Sushant Singh Rajput's Transformation For 'Chhicchore' Is Intriguing, View Pic