Twitterati trend 'BlackPink Disband' after allegedly Blinks target BTS's V and Jimin 
Few ARMY's and Blinks share heated comments on Twitter today. Twitterati trend 'BlackPink Disband' after it was allegedly found that few Blinks members posted nasty comments on BTS members V and Jimin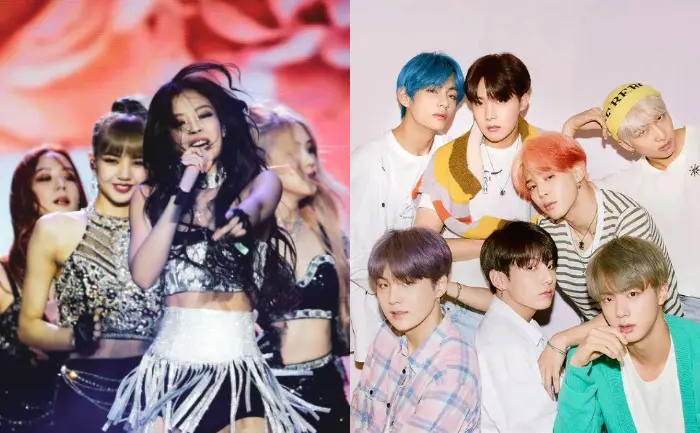 BTS and BlackPink are known as the leading bands currently from the Kpop industry, which enjoy a worldwide fan following. The two of the groups are known to have broken several musical records and they have also contributed greatly in the field of music and philanthropy. One Tuesday i.e June 23, Twitterati trend 'BlackPink Disband,' and in no time the term comes to the list of the top trends. Few members from ARMY's and Blinks shared hate comments on Twitter against each other. Allegedly few Blinks posted nasty comments against BTS members-V and Jimin, a few even said to have targeted Taehyung's late grandmother. This eventually triggered the hate between the two fandoms.
The hate comments started circulating on Twitter amidst the rumors about the girlband opting for disbanding, while in reality there is no official confirmation on the same from YG Entertainment and the singers. After a few members from Blinks shared nasty comments about Jimin and V, ARMY's reacted to the hate. Many BTS fans slammed the label for not taking any action against these comments. Few also highlight that these hate spreaders are not loyal fans to the girlband.
Here check out few Twitter posts by ARMY's and BlackPink:
Armys what are we doing? Blinks are toxic not blackpink. We shouldn't hate on groups. They did nothing wrong. I repeat SOME BLINKS ARE TOXIC so don't use #blackpinkdisband

— Lav⁷ ∞ (@jeonjiiii) June 23, 2021
This whole situation is very embarrassing for both Army 💜and Blinks 💕🖤Army's are upset at blinks for saying extremely disrespectful things about BTS (rightfully so) but army's combat that by doing the exact same thing to the BLACKPINK members(make it make sense) #blackpinkflop pic.twitter.com/I8EybJ0bAG

— Niyah (@MsMarshall18) June 23, 2021
I hope they face legal actions for speaking such vile things. I m disgusted. N blinks?!! What are they tryin to do? Instead of addressing the issue, they r worried only about 'setting their fav up'. What happened to feminism now?! Absolute tr@sh behaviour. I have lost all respect

— Ms.Violet⁷ 🦩🧈 (@violet_pebble) June 22, 2021
no cause blackpink has been receiving disgusting things from armys for years but blinks never put the blame on bts and hold them accountable. yall are a bunch of immature kids pic.twitter.com/NTf9z2v8lN

— mj (@ninisthotty) June 23, 2021
Leave the girls alone. They didn't do anything to you. Hate blinks all you want I really don't care but stop directing your hate towards Blackpink pic.twitter.com/kbw9Bt1Yrj

— Kay (@pricelessooya) June 22, 2021
"Not all blinks are like that , only few blinks are toxic and they aren't even our Co blinks " shutup!!!! Literally 90% of blinks are toxic , racists and pathetic. And no one can change it!

— Jammy ᴱᴺ⁻ Loves jimin (@jay0clock) June 22, 2021
I don't target the group but this is so accurate😂
blinks #blinksgottago #blinksdisband #blinkracists #blackpinkdisband pic.twitter.com/GynPJ3rXVN

— Sneha~ (@SnehaGh34945951) June 23, 2021
It is not ok to drag someone's deceased grandparent . It is basic human decency to respect a gone soul and life. That has nothing to do with being a part of a fandom and dragging others in a fanwar. That's humanity. This is not human like. It is so very disgusting of them

— Parul⁷☆ (@pleaseparul) June 23, 2021
For all the latest reports, stay hooked on to The Live Mirror.
Also Read: Blinks Excited To Watch BlackPink's Rose On Jimmy Fallon's Tonight Show