Twitteratis react to Rahul Gandhi's ISIS reference in Germany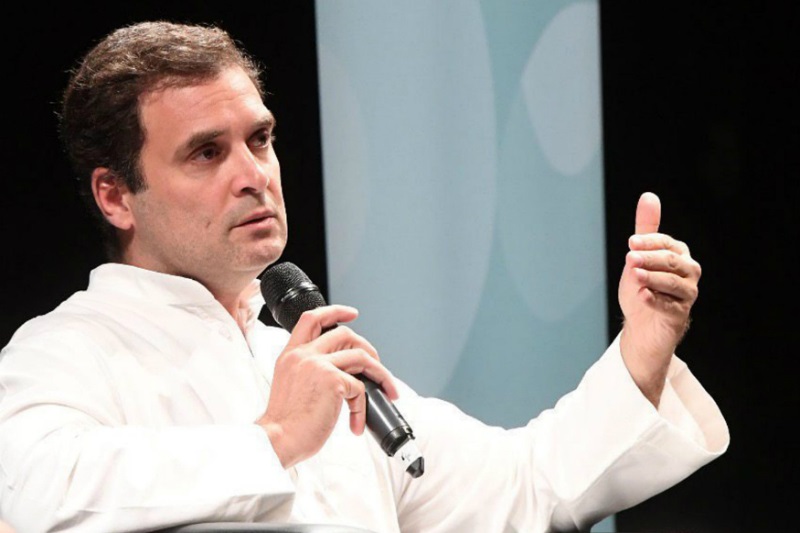 The ruling party BJP gave a sharp reaction on Rahul Gandhi's reference in Germany to terror group ISIS while warning about the impact of excluding people from development. This speech by Rahul has provoked many BJP leaders but there are people who support him too.
He linked incidents of lynching in India to anger because of joblessness and small businesses crashing after the cash ban and GST (Goods and Services Tax). Hence Twitteratis showered their reactions on his remarks.
Also Read: Rahul Gandhi's 'Hindutva' comment irks BJP
Here are some tweets:
#RahulGandhi just minutes before delivering his speech in Germany.. @TajinderBagga pic.twitter.com/23GBEwsfo7

— Sumit kadel (@SumitkadeI) August 23, 2018
Maybe Rahul Gandhi was trying to justify formation of #ISIS by saying that that lack of jobs created it, and hint that it can happen in India too.

But he's horribly wrong (as usual) because lack of jobs didn't create ISIS, RADICALIZED ISLAM did. #RahulGandhi #RahulISISComment

— Jagrati Shukla (@JagratiShukla29) August 23, 2018
Am so glad #RahulGandhi linked terror to lack of jobs . Exactly a year ago in my @TEDTalks I said the same thing : data shows.. if u don't have jobs , one gets mobs . #RahulISISComment #RahulInGermany https://t.co/V80FIXPxKv

— Tehseen Poonawalla (@tehseenp) August 23, 2018
Thank You #RajivGandhi for giving us #RahulGandhi, who is the main reason for BJPs Continuous Victory.

— ℳᏒ.காவி™ ?? (@Ramke_twits) August 20, 2018
When you are a 4 time MP and a PM aspirant, levelling bald allegations against the government of the day, but are suddenly asked – "What have you done to develop Amethi?"#RahulGandhi pic.twitter.com/sbipwGJNEg

— Anshul Kumar Pandey (@anshul_pandey) August 23, 2018
The problems of poor little rich kids on a vacation. #RahulGandhi #RahulInGermany https://t.co/NdV20hQhrW

— GhoseSpot (@SandipGhose) August 22, 2018
He aspires to be the Prime Minister of this country but leaves no stone unturned to deride & derogate it at every international platform
When #RahulGandhi has no love or respect for India as a country, how does he expect its people to vote him to power#ThursdayThoughts pic.twitter.com/aGeaoWTKFB

— Archie (@archu243) August 23, 2018
Here is everything about #RahulGandhi#RahulGandhiForeverPappu pic.twitter.com/xFlBDGAWDt

— Satya Prasad Peddapelli (@Sathyahyd) August 13, 2018
Don't blame #RahulGandhi The mark of a failed leader is his chosen advisors,who in his case are nothing but a bunch of selfserving sycophants eager to milk the fake dynasty name to its maximum.Without it they have no ground to stand on so will continue to feed him misinformation

— Dr Nishi Singh (@nishi_nsingh) August 21, 2018
I totally agree with what @RahulGandhi told in Germany. #RahulGandhi

— Pareekshit (@Pareekshit16) August 23, 2018
#Joblessness is a thing that suddenly cropped up after May 2014. Before that for the past 60yrs ppl were very prosperous. Lambougini was a common car for the ppl . Petrol was 2rs/lt . Every household had clean drinking water, electricity and education. Hai na #RahulGandhi ??

— Nirja sharma?? (@NirjaSharma) August 23, 2018
Also Read: Rafale jets deal: Rahul Gandhi forms six-member task force to 'expose' BJP