Tyson Fury And Vince McMahon Reportedly Discuss The Boxer's WWE Return
Neither Tyson Fury nor WWE has confirmed or denied these rumors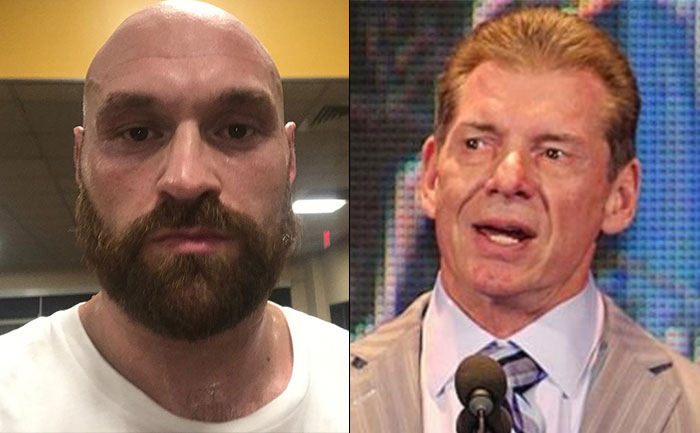 Tyson Fury was initially scheduled to arrive in WWE during WrestleMania 36. However, due to the COVID-19 pandemic, the plans were shelved. Now, it seems like Tyson Fury is in talks with Vince McMahon about a possible return to WWE. As per a tweet by wrestling expert, Tyson Fury is in talks with Vince McMahon about a potential "wrestling opportunity". He tweeted, "Tyson Fury (on Redknapp's Home Fixture on Sky Sports) says he spoke on the phone to Vince McMahon last week and said that "there may be an opportunity coming up soon" to wrestle again."
While neither Tyson Fury nor WWE has confirmed or denied these rumors, the possibility of 'The Gypsy King' returning to WWE is high. WWE is looking to boost up its ratings and Fury would be a big step towards that goal. With AEW consistently coming up in ratings, WWE will be looking for an edge in the rating war.
It is being speculated that Tyson Fury could go after Drew McIntyre's WWE Championship for his return. To lend credence to the theory, the two have been going back and forth on social media for a while. In addition, both superstars have requested WWE to put them in a match.
Both superstars have expressed an interest in facing the other during interviews as well. Drew told The Sun that Fury vs McIntyre was very much a possibility in the future. He also said that the match could be held in a big stadium with thousands in attendance. This has led fans to believe that Drew could be hinting at SummerSlam 2020.
Moreover, Tyson Fury has said that he likes the idea of facing Drew McIntyre in the ring while talking to BT Sport. He also stated that it was great to have Drew as the first British WWE World Champion.