I have not come Ayodhya to play politics, but to awake sleeping 'Kumbhkaranas': Uddhav Thackeray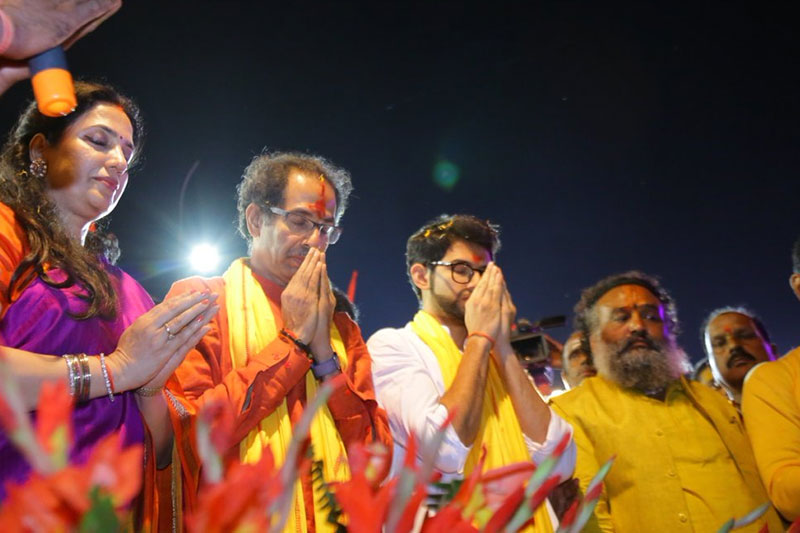 Uddhav Thackeray, Shiv Sena Chief along with his wife Rashmi and son Aditya Thackeray reached the holy city, Ayodhya and blamed the Bharatiya Janata Party (BJP) for delaying the Ram Mandir issue.
While addressing in Ayodhya he said that I want to know a date when the Ram temple would be built. According to reports, around 3,000 Shiv Sena supporters came all the way to Ayodhya from Maharashtra.
Thackeray said that Hindutva is in our breath and no one can forget lord Ram. "I am bringing our history." Thackeray said that he was there with "pure intentions" and not to fight with anyone.
"I have not come to play politics on Ram Mandir issue," Uddhav Thackeray says as he arrived at the Laxman Quila in Ayodhya.
#WATCH: Shiv Sena chief Uddhav Thackeray along with his son Aditya Thackeray offers prayer at Sarayu River in Ayodhya. Shiv Sena will hold an event in the city tomorrow over the matter of #RamTemple. pic.twitter.com/oJdSnVVwck

— ANI UP (@ANINewsUP) November 24, 2018
Thackeray reiterated the "Kumbhakaran" jibe and said that he was there to "awaken the sleeping Kumbhkaranas". He also said that every Indian wants a Ram temple.
Blaming the ruling party, Shiv Sena chief said that the government has been sleeping on the temple issue for more than four years now.  He said, "Hindu will not be quiet now. It will ask questions."
Thackeray has taken a strong stand in Ayodhya saying that Ram temple is a matter of faith and faith cannot be decided in court. "You didn't wait for even half an hour to implement demonetisation. Why such a long wait for Ram temple?" he added.
Uddhav Thackeray likely to offer prayers to the Ram Lalla on Sunday. "As many as 13 parking slots have been provided for the event. No permission was given to the Shiv Sena by the government to hold a rally," Ayodhya mayor Rishikesh Upadhyay told news agency Press Trust of India.
In order to prevent any untoward incident in Ayodhya on November 25, at least 35 senior police officers, in addition to 160 inspectors and 700 constables, have been deployed. Forty-two companies of the Provincial Armed Constabulary, five companies of the Rapid Action Force and several anti-terrorism squad commandos have also deployed. They are being supported by drones.
Also read: Ayodhya Dharma Sabha: RSS, BJP knock doors to mobilise people