Uddhav Thackeray turns 58; Rahul wishes, Shah maintains distance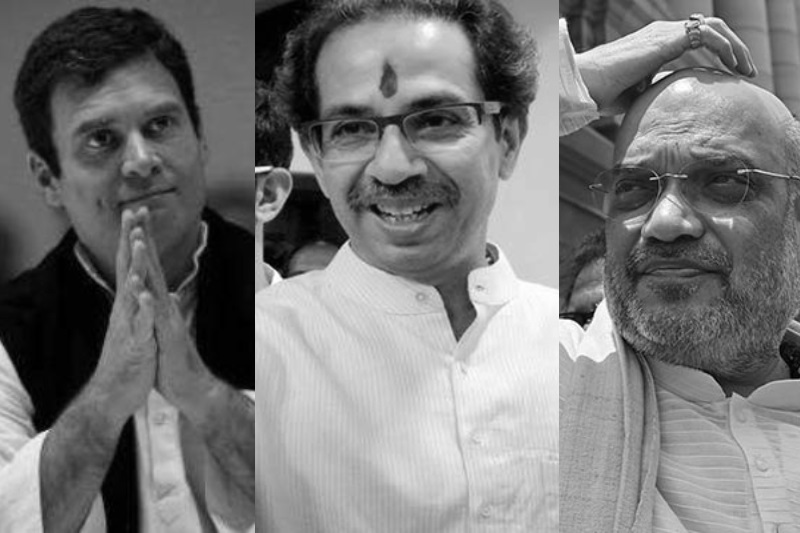 Shiv Sena supremo Uddhav Thackeray turned 58 on Friday and it was celebrated by the partymen. Shall I say I am done with the story! Not yet. In an unprecedented move, the Sena supremo received the birthday wishes from arch political rival Congress president Rahul Gandhi. But, Sena's ally Bharatiya Janata Party chief Amit Shah restricted himself from doing so.
Best wishes to Shri Uddhav Thackeray ji, on his birthday. I wish him good health and happiness always.

— Rahul Gandhi (@RahulGandhi) July 27, 2018

What can we speculate for it! Is everything okay between the two allies or there is difference popping up between the two friendly parties? It is to be kept in mind that barely few days back, just a night before the 'No-Confidence Motion' in Lok Sabha, Shah was in Mumbai and rumours say both Thackeray and BJP chief met to discuss the future course of action. And on the day of voting, Sena didn't even appeared in the Parliament.
Also, Shiv Sena chief praised Rahul after he hugged Prime Minister Narendra Modi. Thackeray even criticised the Bharatiya Janata Party of failing in all fronts. The question that brews up is what exactly is going on between the two oldest saffron parties? Though Sena has announced that it will go solo in the 2019 Lok Sabha elections and contest from all Assembly seats in Maharashtra, till now no such claims from the BJP side.
More surprise comes from West Bengal, where Chief Minister Mamata Banerjee wished Sena supremo. But other than the TMC chief, no other party president thought of wishing Balasaheb Thackeray's son on the social networking site. Be it NCP's Sharad Pawar or Samajwadi Party's Akhilesh Yadav or National Conference's Omar Abdullah. Now the question erupts why shall they wish Udddav when they don't see each other 'eye to eye'!
Wishing Uddhav Thackeray ji a very happy birthday

— Mamata Banerjee (@MamataOfficial) July 27, 2018

Since political arena is too hot this Monsoon and the 2019 Lok Sabha elections are barely 10 months down the lane, these small gestures do make a difference. As a possible third front is shaping up ahead of the polls, politics too is attaining a shape. It would be interesting to see how things turn up.
Though it is uncertain whether these politicians made a personal call to Uddhav or not, wishing him on social was not evident till the article was published. Oh yes, Prime Minister Narendra Modi did wish him (Uddhav Thackeray).
Wishing Uddhav Thackeray ji a very happy birthday

— Mamata Banerjee (@MamataOfficial) July 27, 2018