UK PM Boris Johnson Weds fiancee Carrie Symonds In Secret Ceremony
United Kingdom's PM Boris Johnson marries Carrie Symonds at Westminster Cathedral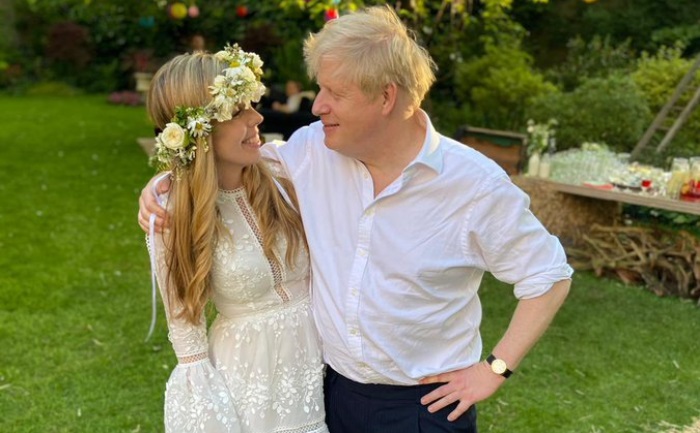 United Kingdom Prime Minister Boris Johnson wed his fiancee Carrie Symonds in a secretly-planned wedding at Westminster Cathedral. Johnson's office confirmed reports in the Mail on Sunday and the Sun that the couple's wedding was attended by a small group of friends and family. A small number of church officials were involved in preparations for the Catholic ceremony. The wedding was officiated by Father Daniel Humphreys.
Reportedly, Westminster Cathedral was locked down at 1:30 pm (1230 GMT). Symonds arrived 30 minutes later in a limo, in a long white dress with no veil.
A single official picture of the newlyweds was shared a day after the wedding. The picture showcases the couple in the garden at 10 Downing Street in the hours following the ceremony. But conservative MP James Cleverly shared a different photograph of the newlyweds enjoying their garden reception
Huge congratulations to @carriesymonds and @BorisJohnson on their wedding.

— James Cleverly (@JamesCleverly) May 30, 2021
Boris Johnson is the first prime minister to get married while in office in nearly 200 years. The last British prime minister to marry in office was Lord Liverpool in 1822.
This is The marriage is Carrie Symonds first and Boris Johnson's third. He was previously married to Allegra Mostyn-Owen and Marina Wheeler. He has at least five other children from previous relationships.
Johnson and Symonds have been living together in Downing Street since Johnson became prime minister in 2019. The couple revealed that they were engaged and that she was pregnant in February 2020. Their son, Wilfred Lawrie Nicholas Johnson was born last April.
Also Read: UK Prime Minister Boris Johnson cancels India visit due to COVID-19