Uma Bharti: Won't contest 2019 Lok Sabha elections; focus on Ram Temple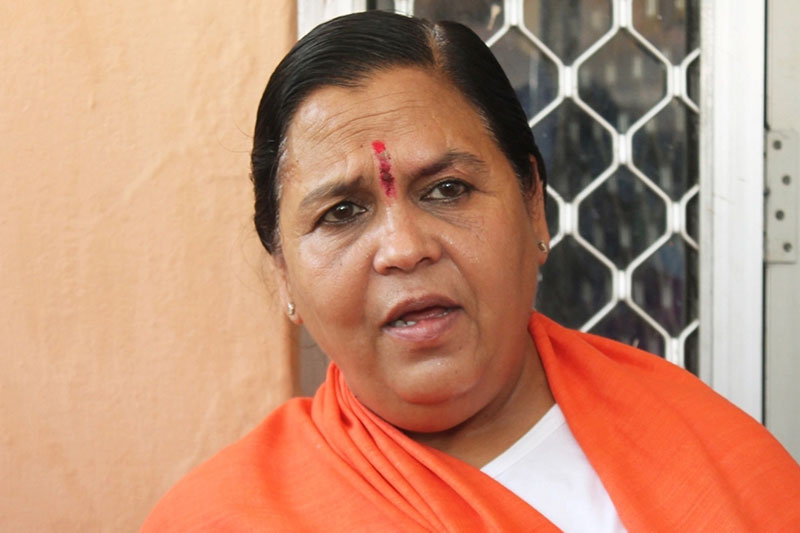 Uma Bharti- Union Minister of Drinking Water and Sanitation, said that she will not be contesting 2019 General Elections and rather focus on issues like cleaning of the river Ganga and Ram temple.
Reportedly, the Union Minister has shared that she has put her perspective in front of the party president Amit Shah and sought permission for the same. Ms Bharti also said that this would not mean that she is planning to retire from the active politics but rather than fighting elections, she wants to focus on Ram temple and Ganga cleaning.
If sources are to be believed, ahead of the elections 2019, the chorus to push the government to focus on the construction of the Ram temple is gradually growing. It is observed that BJP's alliance partners Shiv Sena, Rashtriya Swayamsevak Sangh (RSS), and parties including Vishwa Hundu Parishd (VHP) and other stake-holders are trying to push the government to get its act together and build consensus for the construction of the Ram temple, mentioning that it has been years that the issue is pending and people patience is being tested.
Commenting about ongoing Ram temple row, Uma Bharti said that in order to bring an ordinance to construct the Ram temple, a positive environment has to be built and there is no point to agitate on the matter. She asserted that rather a consensus among all the stake-holders, parties should be formed to resolve the issue as soon as possible.
Speaking further about her plans on the cleaning of the river Ganga, Uma Bharti said that she wants to embark on a Ganga tour for a period of about more than a year during which she would stay various places where river Ganga passes through to create awareness about the cleaning programme. Lastly, the Union Minister also said that she has sought the permission for the same from the party leadership.
Notably, Union Minister of External Affairs Sushma Swaraj will not be contesting General Assembly Elections in 2019.
Also read: Uma Bharti: BJP doesn't have patent on Ram Mandir