Happy Birthday Emma Watson: 10 Interesting Facts About Hermoine Granger That You Did Not Know
Emma Watson Turns 29-year old today: Here are 10 Interesting and Lesser Known Facts About Emma Watson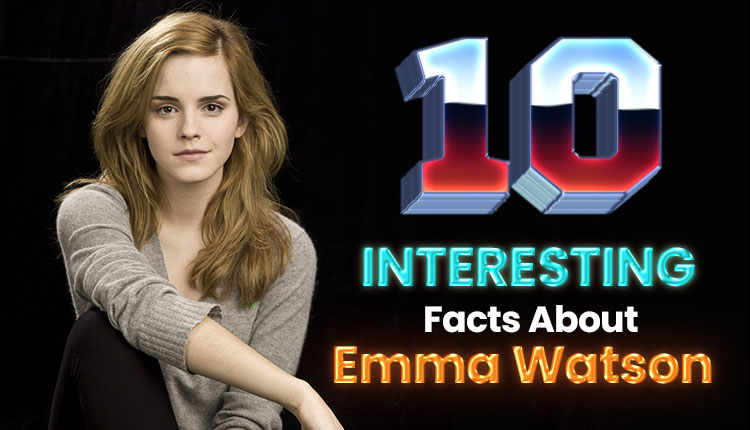 Emma Watson — British Actress and model turned 29 today (April 15). Emma Watson, who rose to fame with her role in Harry Potter as Hermoine Granger. She was born in Paris and brought up in Oxfordshire. Emma Watson is the daughter of English Lawyers Chris and Jacquline Watson. She lived in Paris until she was 5-year old and her parents separated when she was quite young.
Besides Harry Potter, Emma Watson has worked in several other successful movies including My Week with Marilyn (2011), The Perks of Being a Wallflower (2012) and The Bling Ring (2013) and others. In the year 2014, Emma was honoured by the British Academy of Film and Television Arts and won British Artist of the year. In the same year, she was nominated as a UN Women Goodwill ambassador and helped launch the UN Women campaign HeForShe, which calls for men to advocate gender equality.
On the occasion of Emma Watson's 29th birthday (April 15), We will be talking about 10 unknown and interesting facts about Hermoine Granger.
Here are 10 Lesser Known & Interesting Facts About Emma Watson (Hermoine Granger)
1. The Hermoine Granger was born in Paris
The beautiful actress was born on 15 April 1990 in Paris. Her parents got separated when she was just five years old. Since she moved to England when she was quite young, she could not speak French fluently.
2. The Harry Potter beauty is a Yoga Teacher
Do you know? Emma is a certified Yoga teacher. She started practising Yoga because she wanted to find the inner of herself. Talking about the same, Emma had once said,  "I need to find a way to always feel safe and at home within myself. Because I can never rely on a physical place."
3. Emma Watson is Women Goodwill Ambassador for HeForShe
As we have mentioned above Emma is the Women Goodwill ambassador for HeForShe where she promotes gender equality and the empowerment of women. About her role as an ambassador she said, "fighting for women's rights has too often become synonymous with man-hating. This has got to stop."
4. Emma Gave seven audition for the role of Hermione
Notably, Emma had to give audition seven times for the role of Hermione Jean Granger. Author J.K. Rowling wanted Emma for the role from the first audition. Prior to Harry Potter, Emma had no professional acting experience but her teachers suggested her to the casting directors.
5. Emma's first crush was Tom Felton aka Draco
When Tom Felton was 12 and Emma Emma 10, the actress said she had a huge crush on him. He saw her as a little sister than a potential girlfriend. Now they are great friends.
6. She loves to Collage books
Emma has more than 30 journals that she keeps based on different subjects. According to reports, some of the diaries are based on yoga, dreams, acting, people she's met, and advice she has received. She also likes to make collage books.
7. The actor has a favourite Harry Potter book
Emma's favourite novel from the magical series is Harry Potter and the Prisoner of Azkaban. The third book was published in 1999. Although her favourite films based on the book are the first and last one. She feels the first one allowed her to learn a lot from being a new actor and the last one was the most challenging to act.
8. She is the Highest Grossing Actress of the Decade
Emma was named the Highest Grossing Actress of the Decade by the organization. Her films have earned more than 5.4 billion dollars worldwide.
9. Emma wanted to be more than actress
Hermoine Granger completed her graduation from Brown University in Providence, Rhode Island with an English Literature. Watson went to an American University because she wanted to be more than an actress.
10. Emma now became a fashion brand
Now, Emma Watson has become a fashion brand. She is the face of famous brands like Burberry and Lancome. She became the youngest person who has appeared on the cover of Teen Vogue magazine when she was 15.
Also Read: 10 Times When Emma Watson Made Head Turns