Unnao Rape Case: CBI question Sengar in Sitapur prison
Unnao Rape Accused Kuldeep Sengar's Premises Raided By CBI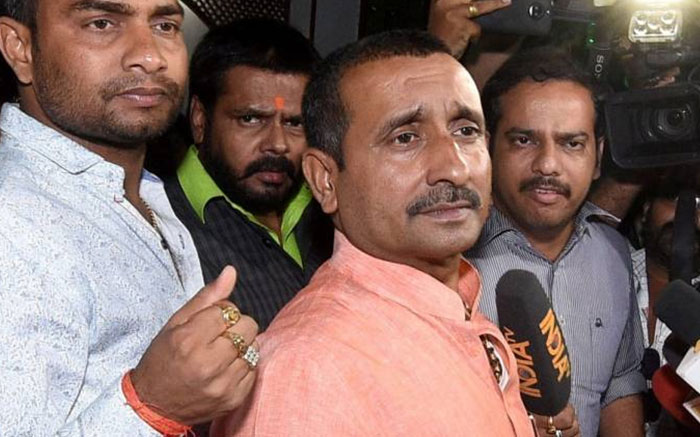 The Unnao Rape Case has taken a new turn. The prime accused Kuldeep Singh Sengar was questioned by the CBI in Sitapur prison. The ex-BJP MLA is accused of raping the teenage girl in June 2017 in his hometown Unnao when she had come looking for a job.
The CBI on Saturday questioned expelled BJP MLA and rape accused Kuldeep Singh Sengar in Sitapur jail in connection with the accident in which the victim and her lawyer was critically injured. Their car had a collision with a truck whose number plates were blackened.2 members of her family were killed. The family of the girl has alleged Kuldeep Sengar engineered a road accident.
The Officers of the Central Bureau of Investigation are also raiding at least 17 places in Uttar Pradesh as part of their probe.
The truck driver and the cleaner are also being questioned. The truck's owner had claimed that the number plates were blackened to evade recovery agents on EMI defaults. However, the loan agent clarified that the truck owner was not behind on payments.
The three-member CBI team grilled Sengar for several hours in Sitapur district jail, according to officials, days after the Supreme Court asked the agency not to take more than a fortnight to complete the investigation.
The 19-year-old victim, who is on ventilator support, remains critical as she has developed pneumonia. Her lawyer has been taken off the ventilator, but he is still not out of danger.
For the victim's protection, the Central Reserve Police Force (CRPF) personnel have taken over the security of the victim and her lawyer.
Also Read: Unnao Rape Case: MLA Kuldeep Singh Sengar expelled from BJP