List Of All Bank Holidays & Government Holidays In India In 2019
A complete list of public, government and Bank holidays in 2019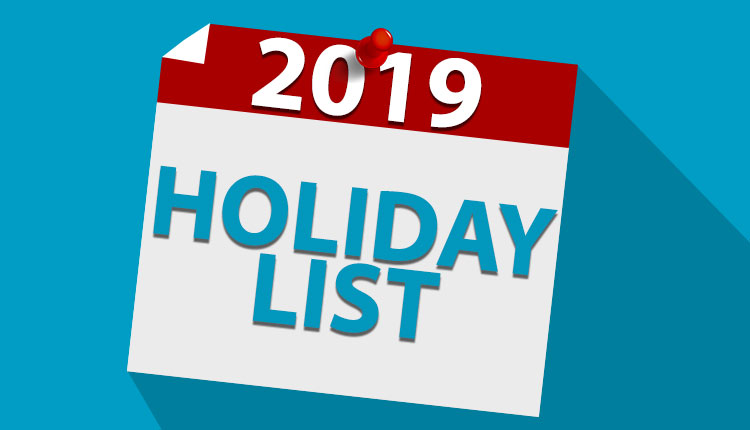 You must be looking for a list of Bank holidays, public holidays, national holidays in India 2019. We all know that we only get three national holidays such as Republic Day (January 26), Independence Day (August 15) and Gandhi Jayanti (October 2). But, you should know that there are plenty of bank holidays which also includes the second and fourth Saturday of the month.
Apart from them, there are other festivals or events when we get off such as Diwali, Christmas, Eid, Holi, Moharram, Guru Nanak Jayanti, Good Friday and others. In this article, we will be talking about all the holidays which will fall in the ongoing year 2019. You can also take a print out of a list of government and Bank holidays and make your plan accordingly.
Complete List of all bank holidays in India in 2019
Bank holidays in January 2019
Tuesday, 1 January: New Year's Day
Monday, 14 January: Makar Sankranti, Pongal (restricted)
Saturday, 26 January: Republic Day
Bank holidays in February 2019
Sunday, 10 February: Basant Panchami (restricted)
Tuesday, 19 February: Shivaji Jayanti and Guru Ravidas' Birthday (restricted)
Thursday, 28 February: Maharshi Dayanand Saraswati Jayanti (restricted)
Bank holidays in March 2019
Monday, 4 March: Maha Shivaratri
Thursday, 21 March: Holi
Bank holidays in April 2019
Saturday, 6 April: Gudi Padwa/ Ugadi (restricted)
Sunday, 7 April: Cheti Chand (restricted)
Sunday, 14 April: Dr Ambedkar Jayanti and Vaisakhi and Ram Navami (restricted)
Wednesday, 17 April: Mahavir Jayanti
Friday, 19 April: Good Friday
Sunday, 21 April: Easter Sunday
Bank holidays in May 2019
Tuesday, 9 May: Guru Rabindranath Jayanti (restricted)
Sunday, 19 May: Buddha Purnima (restricted)
Friday, 31 May: Jamat-ul-Wida (restricted)
Bank holidays in June 2019
Wednesday, 5 June: Idul Fitr
Bank holidays in July 2019
Thursday, 4 July: Ratha Yatra (restricted)
Bank holidays in August 2019
Monday, 12 Aug: Bakrid / Eid al Adha (restricted)
Thursday, 15 Aug: Independence Day and Raksha Bandhan
Saturday, 17 Aug: Parsi New Year (restricted)
Saturday, 24 Aug: Janamashtmi
Bank holidays in September 2019
Sunday, 1 Sept: Teej (restricted)
Monday, 2 Sept: Ganesh Chaturthi (restricted)
Tuesday, 10 Sept: Muharram
Wednesday, 11 Sept: Onam (restricted)
Bank holidays in October 2019
Wednesday, 2 Oct: Gandhi Jayanti
Sunday, 6 Oct: Durgashtami (restricted)
Tuesday, 8 Oct: Durga Puja and Dussehra
Monday, 28 Oct: Diwali Holiday
Tuesday, 29 Oct: Bhai Dooj
Bank holidays in November 2019
Sunday, 10 Nov: Eid-e-Milad
Tuesday, 12 Nov: Guru Nanak Jayanti
Bank holidays in December 2019
Tuesday, 24 Dec: Christmas Eve
Wednesday, 25 Dec: Christmas Day
Brief Description of Bank Holidays 2019
Makar Sankranti/Pongal: On the occasion of this festival, Banks will remain off on account of Makar Sankrati/Pongal, which will be celebrated on 14 January this year.
Republic Day: It is a government holiday, it is the day we honour the date on which the Constitution of India came into effect on 26 January 1950. On this day, banks also remain shut.
Maha Shivaratri: Maha Shivaratri is also one of the bank holidays which is observed in many parts of India. It is one of the biggest festivals for Hindus, who celebrate the night of God Shive.
Holi: The festival of colour, give an indication of the arrival of the harvest. People belonging to Hindu community to celebrate Holi on the 20th March in some states.
Ugadi: Bank remains shut on Ugadi festival as well. Andhra Pradesh, Karnataka and Telangana celebrate Ugadi as the beginning of the New Year. It called Gudi Padwa in Maharashtra. The festival is historically important for the Hindus living in India.
Ram Navami/Ambedkar Jayanti: Both the festival will fall on the same day 14 April 2019. On account of these two festivals, a bank holiday is observed in several states. While Ram Navami celebrates the birth of Lord Rama, Ambedkar Jayanti celebrates the birth of Dr B R Ambedkar— the creator of the Indian Constitution.
Mahaveer Jayanti: It is mainly celebrated by Jain people, which honours the birth of Mahaveer — last Tirthankara. It falls in March or April.
Vaisakhi: Vaisakhi is celebrated by the Sikhs and the Hindus, which will fall on April 13 or 14 every year. The day commemorates the New Year for the Sikhs.
Good Friday: It is a major festival, which always falls in the month of April 2019. The day is observed in many states across the country during the Holy Week.
May Day (International Workers Day): It is celebrated on May 1. The day has been promoted by the overseas labour movement.
Sant Guru Kabir Jayanti: It is also a bank holiday 2019 in different states such as Chhattisgarh, Himachal Pradesh and Punjab.
Maharana Pratap Jayanti: As its name suggests, the birth of Maharana Pratap is celebrated on April 2019. It is celebrated in a few states in India.
Bakrid/Eid al Adha Holiday: It is one of the biggest festivals of Muslims, which is celebrated in a majority of states. Like government offices, banks will not remain open on Bakrid/Eid al Adha.
Independence Day: Needless to say, it celebrates the independence of the country from the United Kingdom (UK). It is a government holiday across India.
Janmashtami: It celebrates the birth of Lord Krishna. It is observed in several states of India.
Gandhi Jayanti: It is regarded as the national festival. Entire India celebrates the birthday of Mahatma Gandhi, who is also addressed as the Father of the Nation.
Diwali: Diwali is undoubtedly the biggest festival of Hindus. The festival is observed on the 26th, 27th and 28th of October in 2019 in various parts of the country.
Christmas Day: It is a bank holiday, it is celebrated on 25 December every year. The Christmas mark the birthday of Jesus Christ.
Types of Bank Holidays 2019
There are two types of Bank Holidays one is National Holidays or other is Government Holidays. Indian only have three national holidays such as Republic Day, Independence Day and Gandhi Jayanti. Notably, National holidays are also known as Gazetted holidays. Bank and other institution related to finance remains shut on national holidays.
Government holidays are further divided as state government bank holidays and Central Government bank holidays. State government bank holidays differ amid Indian states whereas Central Government bank holidays are commonly celebrated across the country. Maharashtra Day is a bank holiday in Maharashtra. Goa Liberation Day is a bank holiday in Goa, while Haryana Day is a bank holiday in Haryana.
RTGS and NEFT Holidays 2019
Real Time Gross Settlement (RTGS) whereas National Electronic Funds Transfer(NEFT). Both RTGS and NEFT give people an option to transfer cash from one bank to another. The Reserve Bank of India maintains both NEFT and RTGS. On these days, you would not be able to transfer money via RTGS and NEFT.
| | | |
| --- | --- | --- |
| Holiday | Date | Day |
| Republic Day | 26 January 2019 | Saturday |
| Good Friday | 19 April 2019 | Friday |
| Independence Day | 15 August 2019 | Thursday |
| Mahatma Gandhi Jayanti | 2 October 2019 | Wednesday |
| Christmas | 25 December 2019 | Wednesday |