A teacher turned Arnold Schwarzenegger to 'Subhash Nagar …
'Terminator' Actor Becomes Arnold 'Subhash Nagar' , thanks to a teacher; watch the hilarious video here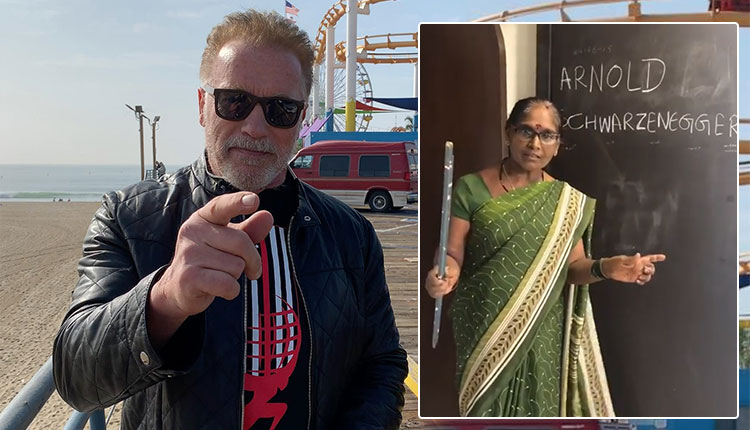 Hollywood superstar Arnold Schwarzenegger, is gearing for the release of his next film 'Terminator: Dark Fate' that will be releasing on November 1. Fans are over the moon to see their favorite reprise his role in the action series once again. Well, we do know that Arnold's surname is a tad difficult to pronounce but a recent video that is viral on the social media has renamed the star as Subhash Nagar.
On Instagram, a video has been posted by the account mrs_rajeshwari, a teacher from Mumbai, who writes words on a blackboard so as to teach spellings. After Arnold, she struggled to pronounce Schwarzenegger and instead, said, "Subhash Nagar".
Watch the video here:
https://www.instagram.com/mrs_rajeshwari/?utm_source=ig_embed
Instagram is in splits and the clip has been viewed over 13,000 times. Mrs. Rajeshwari's pronunciation of the letters 'Z' and 'N' are equally hilarious.
For the uninitiated, Mrs. Rajeshwari is extremely popular on Instagram and has more than 29.1k followers. This is not the only video she has shared that will leave you ROFL. She also posts other tutorial videos as well as Tik Tok stuff in which she is seen pronouncing words in a weird and hilarious way.
Here are some more of her videos to tickle your funny bone:
Arnold Schwarzenegger is known for films like 'The Terminator', 'Predator', 'Around the World in 80 Days' and 'The Last Stand.'
Also Read: The Terminator: Dark Fate trailer brings back Arnold Schwarzenegger & Linda Hamilton with a bang