Viral Pic: World's highest queue of trekkers waiting to summit Mt Everest
Deadly human traffic jams have formed near the summit of Mount Everest; check out vira picture here.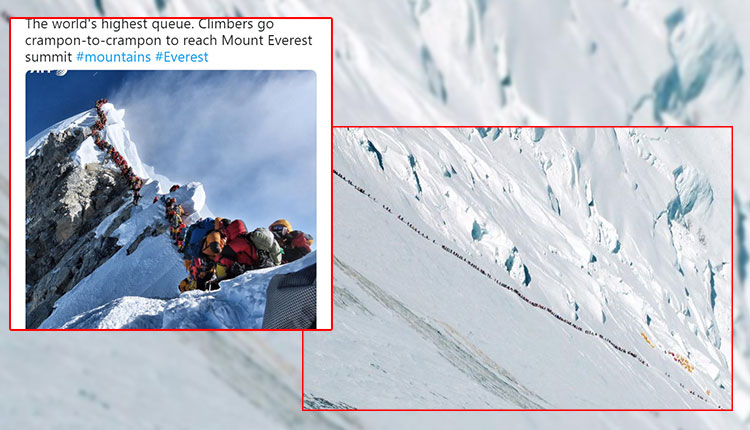 Traffic jams one of the most irritating but definitely not a surprising occurrence that is faced by commuters daily. Yes, it is a common sight in major cities around the world. But it truly left us stunned that it is also found on the world's highest peak! Going by a viral picture on the internet shared by British mountaineer Nirmal Purja a serpentine queue on the edge of Mount Everest has left people stunned.
Check out the viral picture here shared by Giles Hewitt:
The world's highest queue. Climbers go crampon-to-crampon to reach Mount Everest summit #mountains #Everest pic.twitter.com/W9chhZyhcu

— Giles Hewitt (@gileshewitt) May 23, 2019
This is the scene of Khumbu icefall on April 19, as several climbers were on their way up high camps for the first rotation. https://t.co/EC4O5w22Vf #Everest2019 pic.twitter.com/OWOxT3bqlF

— Everest Today (@EverestToday) April 24, 2019
This picture of a serpentine queue on the edge of Mount Everest is going viral. It was Captured on the final leg of the journey to the peak, the photo shows a long line of trekkers walking along a precarious cliff waiting to fulfil their dreams. The route was clogged as 250-300 people marched in a single-file, reportedly taking up to three hours to summit.
"I have had bottlenecks on mountains before but not this many people at such high altitude," Nirmal Purja, a climber who photographed the scene, said in a message. If the weather had turned, he said, "it could've been a real disaster."
The picture has also triggered a debate on the environmental effects such a "traffic jam" could have on the fragile eco-system. It has also sparked concern regarding the safety of such journeys.
This seems like some strange visual metaphor for climate change https://t.co/Q7XZ44vfD1

— Dave Krugman (@dave_krugman) May 25, 2019
Looks like people are standing in a queue for Mumbai local. https://t.co/Is7PihKoKA

— Dhruval Mehta (@DhruvalkMehta) May 25, 2019
This is a photo of people in line to summit Mt. Everest. There is something a little bizarre about this. People just have to overrun all the once pristine areas. pic.twitter.com/K0GCMJ9u4Y

— Ellen Bartlett (@ellenruth206) May 25, 2019
Mount Everest is trashed by human tourists. 50 Tons of new trash each year and 26000 tons of human trash(pee & poop) estimated.

Just think if we are capable of damaging Mt Everest, what would be situation at normal places. https://t.co/JlUkbxKyZZ

— Hussain Chaudhry🇵🇰 (@HussainChPAS) May 24, 2019
Do you think a limit should be set on people to scale the mountain? Do share your views.
Also Read: Man plans to clean up 14,000 kgs of faeces from Mt Everest