Viral: Woman Takes A Walk On Aircraft's Wings after Feeling Too Hot
Ukraine: A woman, who was feeling too hot, decided to walk on the airplane wing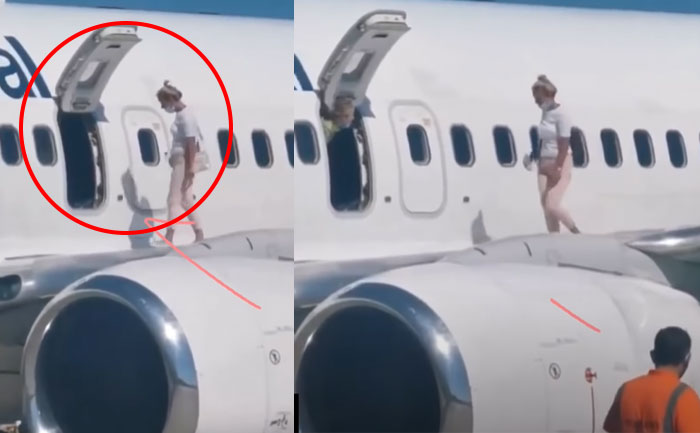 In a shocking and bizarre incident, a woman decided to take a walk on the Aeroplane wing. The reason being she was feeling too hot inside the aircraft. This incident took place as the plane landed in Kyiv, Ukraine. The video of the woman taking a stroll on the wing has become viral on the internet.
Check out the viral video here:
As per reports, the anonymous woman was returning from a vacation in Turkey with her kids. She was flying with Ukraine International Airlines. The mother of two felt too hot after the plane landed in Kyiv. She decided to open the emergency exit of the plane and stepped out on the wing. The lady dressed in a white Tshirt and light pink trousers was seen walking all the way from the fin of the plane to the emergency exit gate of the Boeing 737-86N. After her short stroll, she made her way back into the aircraft.
Her shocking act left people and her own children shocked. The pilot called the police and Ambulance. On being questioned by the cops, she was unable to explain the reason behind her shocking behaviour. Interestingly, the woman was neither drunk nor on drugs.
Ukraine International Airlines confirmed the incident saying, "A passenger of flight PS6212 Antalya-Kyiv illegally opened the emergency exit of the plane after it stopped near gate 11 of terminal D and went on to its wing. The woman was blacklisted by Ukraine International Airlines after the incident."
Also Read: American Airlines mechanic accused of plane sabotage