Virat Kohli tops the list of players who scored 20,000 international runs in a decade
Virat Kohli becomes only cricket players who scored 20,000 international runs in one decade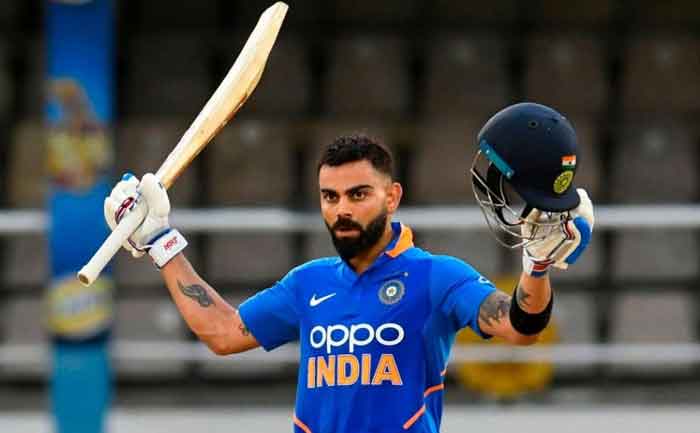 Indian skipper Virat Kohli has charted yet another milestone of becoming the only cricket player in the world to score 20,000 international runs across all the formats in a decade. Virat Kohli bagged this record after hitting 114 runs in the third ODI against West Indies on August 14 in Trinidad.
Virat Kohli, who made his Test and T20 debut in 2010 has 20,502 runs in his kitty, out of which he scored 20,018 runs from 2010. Yes, Kohli made his ODI debut in 2008 and scored merely 484 runs from his debut to till 2010. Notably, Kohli has dethroned former Australian captain, Ricky Ponting, who had scored 18,962 runs in a decade, which Ponting scored in the 2000s.
The third position of cricket players who scored most runs in a decade is bagged by South Africa's Jacques Kallis and followed by Mahela Jayawardene and Kumar Sangakkara from Sri Lanka. Sachin Tendulkar comes at number 6 in the list of scoring most runs in a decade while Rahul Dravid rounds off the top seven players with most runs in a decade.
Apparently, Kohli still has four months to add to the run-tally. After winning the series against Windies, Kohli, who scored his 43rd hundred in 99 balls said, "I have been around for a while. Experience counts in pressure situations, understanding where the game is heading and what I need to do in terms of the tempo of the game."
"So you obviously want to take a lot of pride in stepping up for the team as much as you can and I definitely take a lot of pride in that," he added.
Also Read: Shoaib Akhtar Chooses Virat Kohli Over Rohit Sharma, Calls Dhoni A LEGEND