Virat Kohli First Cricketer To Cross 100 Million Followers On Instagram
Virat Kohli First Cricketer to Garner 100 Million Followers on Instagram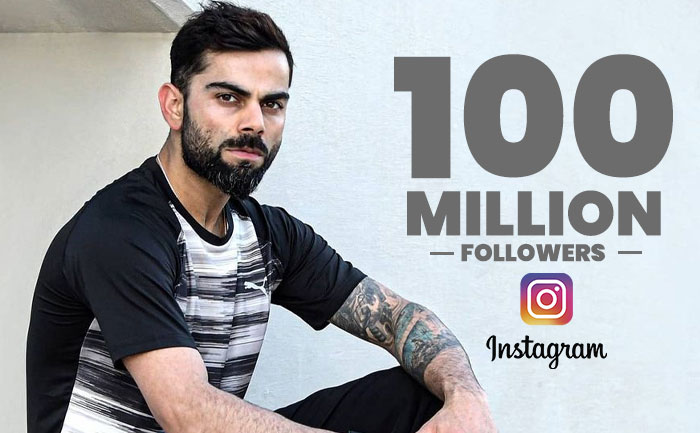 Indian skipper Virat Kohli has broken a new record and enter the elite group of sportsperson of most followed celebrity on Instagram. Kohli has gone on to be the first cricketer to garner 100 million followers on Instagram. The Indian Captain is the fourth sportsperson after Cristiano Ronaldo, Lionel Messi and Neymar to achieve this feat.
The news was shared by The International Cricket Council (ICC) on Monday. They tweeted, "Virat Kohli – the first cricket star to hit 100 million followers on Instagram."
Check out the post here:
Virat Kohli – the first cricket star to hit 100 million followers on Instagram 🎉 pic.twitter.com/HI1hTSbo8M

— ICC (@ICC) March 1, 2021
Kohli is the only cricketer in the world's top 10 highest earning sportspersons through sponsored posts on Instagram. Portugal and Juventus star Cristiano Ronaldo is the most followed individual on Instagram with over 266 million followers. He is followed by famous singer Ariana Grande who has 224 million followers, while retired WWE superstar Dwayne Johnson is third on the list with 220 million followers. American TV personality Kylie Jenner (218 m), singer Selena Gomez (213 m) complete the top five. Kohli stands 20th on the list of most followed on Instagram.
Apart from Instagram, Kohli also has a massive fan-following on other social media platforms. He has 40.8 million followers on the micro-blogging site Twitter, while has over 36 million likes on Facebook.
Virat Kohli is currently in Ahmedabad with the Indian cricket team. They are gearing up for the fourth and final test against England. The final test will begin on March 4.
Also Read: Anushka Sharma and Virat Kohli vacation pics will make you jealous