India vs West Indies: The records that captain Virat Kohli sent tumbling en route to his 24th Test hundred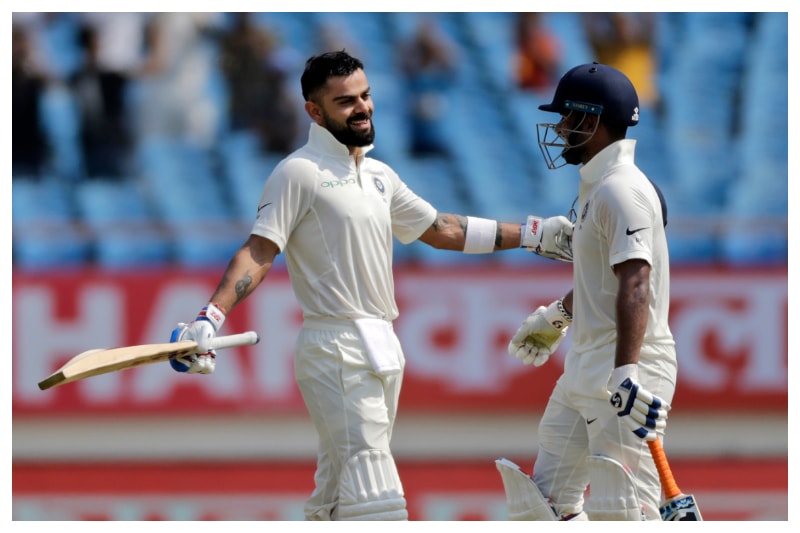 If the first day of the opening Test match between India and the West Indies was all about the young debutant Prithvi Shaw and the records he sent tumbling, the second day well and truly belonged to the Indian skipper Virat Kohli who continued with his rich vein of form in Test cricket and stroked his way to a masterful 139 to make and break some records of his own.
The right-hander notched up his 24th hundred in Test cricket in his 123rd innings-an achievement that is only second to the legendary Sir Donald Bradman who had scored the same number in 62 innings. Kohli surpassed the legendary duo of Sachin Tendulkar and Sunil Gavaskar, both of whom had scored 24 Test centuries in 125 and 128 innings respectively.
At just 29 years, Kohli finds himself in a list where there are only three other Indian batsmen before him with more Test hundreds than him. Only Tendulkar (51), Rahul Dravid (36) and Sunil Gavaskar (34) has more Test centuries than the current Indian captain. He went past Virender Sehwag's tally of 23 Test hundreds.
Also read: Virat Kohli on the edge of milestones in two-match Test series against the West Indies
This was also Kohli's fourth ton in Test cricket this year which is two times more than the number of hundreds by any other batsmen. West Indies' Kraigg Brathwaite, Bangladesh's Mominul Haque, Sri Lanka's Kusal Mendis and South Africa's Aiden Markram-all have scored two centuries each in Test cricket in 2018.
The Indian captain, who has had a phenomenal year with the bat now has 20 hundreds while batting at number four which makes him the fifth batsman after Tendulkar, West Indian great Brian Lara, South Africa's Jacques Kallis and Sri Lanka's Mahela Jayawardene to get to that mark while batting at that position.
However, Kohli has got to the 20-century mark in 82 innings while batting at number four, which is the fastest among the top five batsmen.
Captaincy has also seemed to add to his batting skills and temperament as he has now got 30 centuries as captain which is more than what he got as non-captain. As skipper, he has got 30 tons in 134 innings as compared to 29 hundreds in 250 innings which he got when he wasn't the skipper.
(Image credit-Times Now)