ESPN World Fame 100: Virat Kohli breaks in top 10; MS Dhoni stands on 13th spot
Virat Kohli stands at seventh place in ESPN World Fame 100 list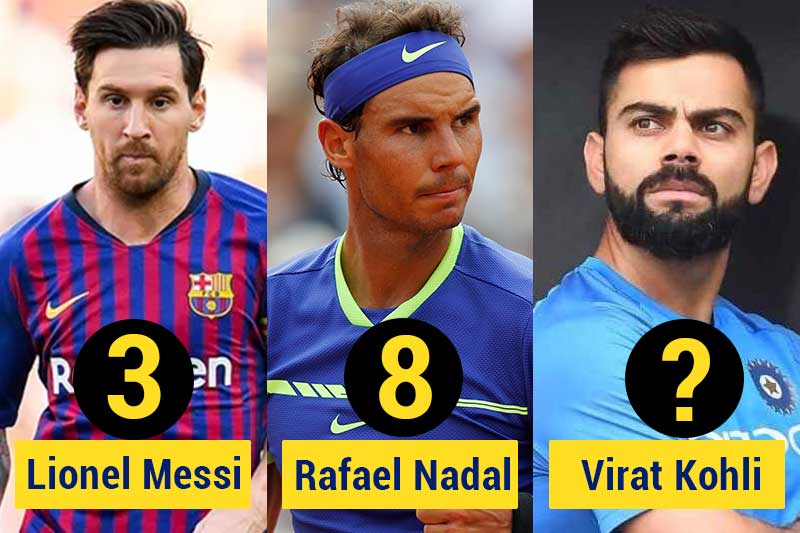 Indian cricket captain Virat Kohli, former captain Mahendra Singh Dhoni and left handed-batsman Yuvraj Singh are among the 11 cricketers to find their names in this year's ESPN World Fame 100 list. It is to be noted that Virat Kohli is also a top-ranked batsman in Tests and ODIs. But in the ESPN World Fame 100 list, the Indian skipper stands on the seventh place.
While MS Dhoni stands at 13th spot, Yuvraj Singh is placed on 18th spot. However, Virat Kohli's annual endorsements are valued at $20 million, less than Dhoni's at $28 million and Yuvraj's at $31 million. Interestingly, Portugal football superstar Cristiano Ronaldo has found No 1 place in ESPN World Fame 100 list. The other in top five are NBA great Lebron James, football icons Lionel Messi and Neymar and Mixed Martial Art fighter Conor McGregor respectively. At No 6 is Roger Federer, the all-time men's singles Grand Slam winner.
Outside the top 20 global athletes, the other cricketers are India's Suresh Raina (22), R Ashwin (42), Rohit Sharma (46), Harbhajan Singh (74) and Shikhar Dhawan (94) and the Bangladesh trio of Shakib Al Hasan (90), Mushfiqur Rahim (92) and Mashrafe Mortaza (98).
It is worth mentioning here that the list is based on three fame factors – a sportsperson's Google trend score, endorsement dollars and social media followers.
Also Read: World Fame 100: Sania Mirza, Saina Nehwal & PV Sinhu Among 10 Most Famous Women Athletes