Vishwanathan Anand sees of Hikaru Nakamura in style to win blitz title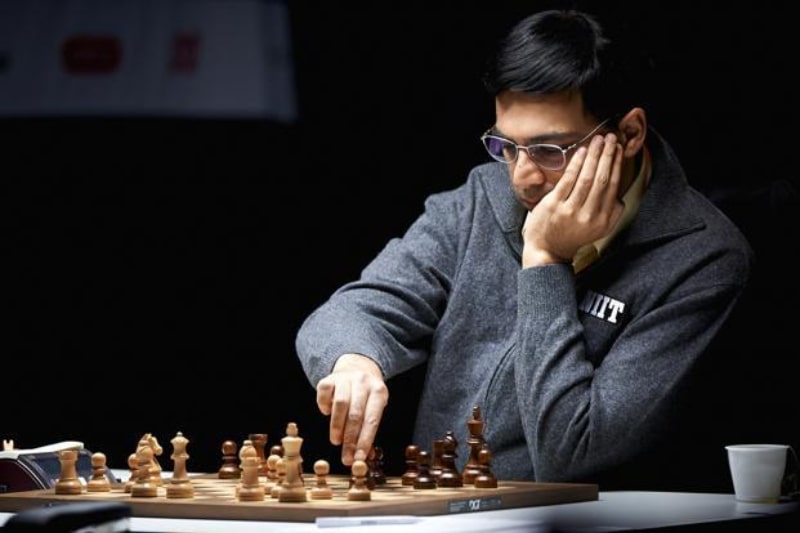 Vishwanathan Anand reinstated his stature as one of the best there is when he won the inaugural Tata Steel Chess India Blitz Tournament on Wednesday, overcoming overnight leader Hikaru Nakamura in the play-off in Kolkata.
Anand was placed fourth after the first leg on Tuesday but the former World Champion went on to bag six wins and three draws in nine rounds which put him on equal grounds as Nakamura, which took the proceedings to the play-off.
In the play-off which comprises of two rounds and is faster than the blitz in a format of reduced time, Anand secured the win with white pieces before he drew with black and eventually bag the win 1-5-0.5.
Also read: Virat Kohli became emotional and lost control: Vishwanathan Anand on the "leave India" controversy
"I wanted to show the audience what is that I do in some other parts of the world all the time and it was nice to be able to do it here," said Anand, who was competing in Kolkata for the very first time since 1992 said, as quoted by PTI.
He added, " It was just the most magical day for me… Here, I did not have any problem with motivation. It genuinely meant a lot to me to do well here."
This was also the first time that Anand was playing in India since he was defeated in his hometown of Chennai by Magnus Carlsen in 2013.
"It's long been a dream of mine. And we have ticked the other boxes, we have good opens, we have strong players. But the one thing that was lacking was frequent visits by the top players in the world. Now we have that. So it meant a lot to me to be able to play here in India and especially here in Kolkata," he added.
R Praggnanandhaa, India's youngest Grandmaster helped Anand's cause when he held Nakamura in the final round. In the play-off, Anand was rock solid with a one up pawn when Nakamura took risks in the initial part of the match.
The duo had a rook and pawn endgame which is where Anand sealed things in his favour. The match finally headed to the opposite square bishop endgame where the American drew things to have Anand as the clear winner.
To me what Vishy has done… I am almost certain I won't be playing chess at that age. So it's really remarkable and I think especially if you compare (him) against Gary (Kasparov) for example. Gary kind of came out of retirement to play in St Lucia.
"And I think Vishy did better than he did. It just shows what a truly amazing chess player he is," said Nakamura.