Vizag gas leak: Two Dead, Four Hospitalised After Gas Leak At A Pharma Unit
Two Dead, Four Hospitalised After Gas Leak At Visakhapatnam Pharma Unit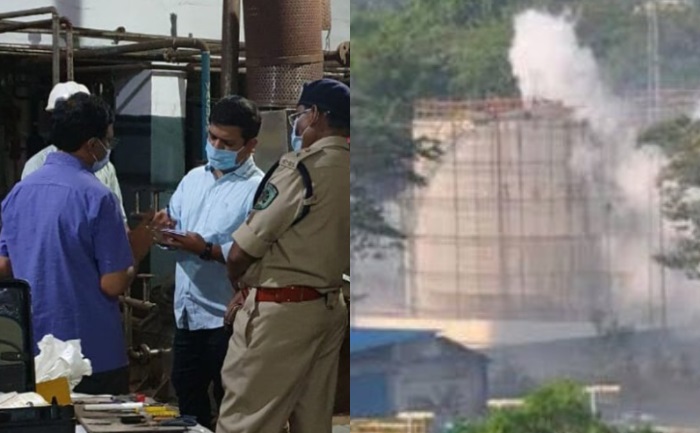 Tragedy struck the port city of Visakhapatnam yet again. Two people were killed and four were hospitalized in Andhra Pradesh's Visakhapatnam. This happened after Benzimidazole gas leaked at Sainor Life Sciences facility. The pharmaceutical unit in the industrial port city's Parwada area was immediately shut down as a precautionary measure.
The leakage happened at 11.30 pm on June 29. The exact cause of the leakage is yet to be ascertained.
BREAKING: Another gas leak in Vizag. Poisonous gases leak from Paravada Pharma Company.
Atleast 2 people died. #StaySafeVizag #VizagGasLeak pic.twitter.com/TU8ldSEznp

— 𝗧𝗵𝗼𝗺𝗮𝘀 𝗦𝗵𝗲𝗹𝗯𝘆 ⚡ (@4Harikrishna) June 30, 2020
"The situation is under control now. Two persons who died were workers and were present at the leakage site (at the time of the incident). Gas has not spread anywhere else," senior police officer Uday Kumar was quoted by news agency ANI.
Two workers died & four were hospitalised following benzimidazole gas leakage from the Sainor Life Sciences pharma company at Jawaharlal Nehru Pharma City (JNPC), Parawada in #Visakhapatnam in the wee hours of Tuesday.
About 30 workers were in factory at the time of the incident. pic.twitter.com/AoZok3fN6q

— Shivani Sharma (@Shivani2297) June 30, 2020
The latest incident comes nearly two months when a gas leakage from a chemical plant. It had killed 11 people, including two children. More than 1,000 were left sick after toxic styrene gas leaked from LG Polymers facility – in Visakhapatnam. Three surrounding villages were evacuated. Officials went house-to-house, breaking in to pull out unconscious victims.
Also Read: Vizag Gas Leak: Ayushmann Khurrana, Kartik Aaryan And Other Celebs Are heartbroken By The Tragedy