Vladimir Putin gets trolled on Twitter for bringing Umbrella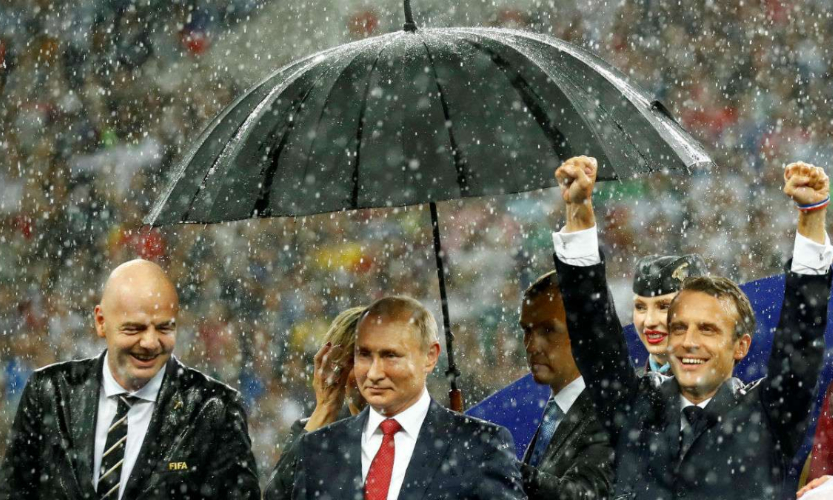 France defeated Croatia 4-2 to lift the 2018 FIFA World Cup title at Luzhniki Stadium in Moscow on Sunday. It started raining during the presentation ceremony wherein Russian President Vladimir Putin stood happily under an umbrella during the award ceremony.
FIFA President Gianni Infantino, France President Emmanuel Macron and Croatia President Kolinda Grabar-Kitarovic had no problems when the rain down poured at them during award ceremony. But, Vladimir Putin came well prepared with an umbrella unlike others on the podium. This was notoced by the viewers and they started trolling the Russian President on Twitter.
Also read: Yuzvendra Chahal feels Lord's pitch acted biased towards England
Putin's umbrella. World Cup finals. @FIFAWorldCup pic.twitter.com/FyZctAwnoG

— Witnify (@Witnify) July 16, 2018
Putin is…Putin ??☔#Putinumbrella pic.twitter.com/SFYWnPfP9B

— Icelandball ?? (@Icelandball) July 16, 2018
Putin the only one with an umbrella. … pic.twitter.com/MLQNqThhBl

— Bandy (@Bandisto) July 16, 2018
#Putinumbrella #powermove overshadows the #WorldCupFinal2018 trophy celebration ? pic.twitter.com/TlOsGFUbDL

— Kevin Reynoso (@kevreynoso) July 16, 2018
#FrancevsCroatia #VladimirPutin #RussiaWorldCup2018 #putin #umbrella #Putinumbrella

The Godfather? pic.twitter.com/tnmGVwn3gF

— Bazkar (@bhaskar_gbr) July 16, 2018
Putin's Umbrella steals the show at the Football World Cup Presentation pic.twitter.com/cvxQh8xlRH

— Krish Indian?? (@rssbjpside) July 16, 2018
Putin said Russia could be "proud" of its hosting of the football World Cup, judging it a success "in every respect" after Sunday's final between France and Croatia.
"We can surely be proud of how we organised this tournament. We have made this grand event a success in every respect. We have done it for our supporters, for Russians who are passionate about sport and for all those who love sport across the world."
Putin thanked the foreign fans who came to Russia for the tournament.