Vodafone merges with Idea, creating India's largest mobile operator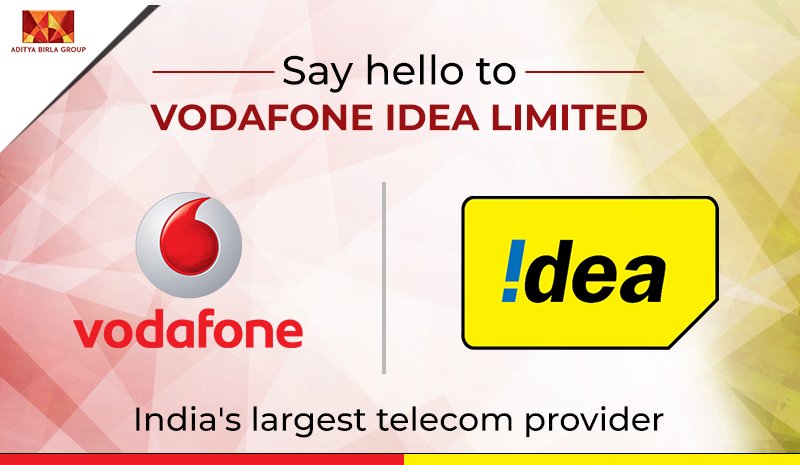 With the merger of Vodafone and Idea Cellular, a new chapter is created in the history of the telecom sector of India. This merger has by far formed India's largest telecom service provider with over 408 million subscribers, as said in a joint release by the companies.
On 31 August 2018, Vodafone India merged with Idea Cellular on August 31, 2018, renaming the newly formed entity as Vodafone Idea Limited. However, the merged entity would continue using both the Idea and Vodafone brand. Currently, the Vodafone Group holds a 45.2% stake in the combined entity, the Aditya Birla Group holds 26% and the remaining shares will be held by the public.
It is official!
Merger of @Idea & @VodafoneIN is now complete. Vodafone Idea Limited now No.1 telecom service provider in India & No.2 globally. We're thrilled and excited about our new 408 million strong family and welcome all the new members! Read more: https://t.co/LbWhTq2vZ3 pic.twitter.com/OmKeFRha5r

— Aditya Birla Group (@AdityaBirlaGrp) August 31, 2018
The newly formed Vodafone Idea Ltd will have 12 directors as its board members and Kumar Mangalam Birla will helm as the Chairman. Balesh Sharma is appointed as the CEO of the companies, by the board.
Speaking at the historic moment Kumar Mangalam Birla, Chairman Aditya Birla Group and Vodafone Idea Limited said, "Today, we have created India's leading telecom operator. It is truly a historic moment…As Vodafone Idea, we are partnering in this initiative by building a formidable company of international repute, scale and standards.
"We are committed to offer both our retail and enterprise customers an excellent experience while fulfilling their evolving digital and connectivity needs via new products, services and solutions," said Balesh Sharma.
The company will now have 17 lakh retail outlets as distribution network and a broadband network of 3.4 lakh sites. "The merger is expected to generate Rs 14,000 crore annual synergy, including apex synergies of Rs 8,400 crore, equivalent to a net present value of approximately Rs 70,000 crore," the statement said, as quoted in Hindustan Times.
Also read: Telecom Commission says yes to net neutrality, clears new policy