Washington: Mob Storms US Capitol, 1 Dead In Violence
1 Dead as Donald Trump supporters storm Washington DC; 1 woman shot, 3 in medical emergencies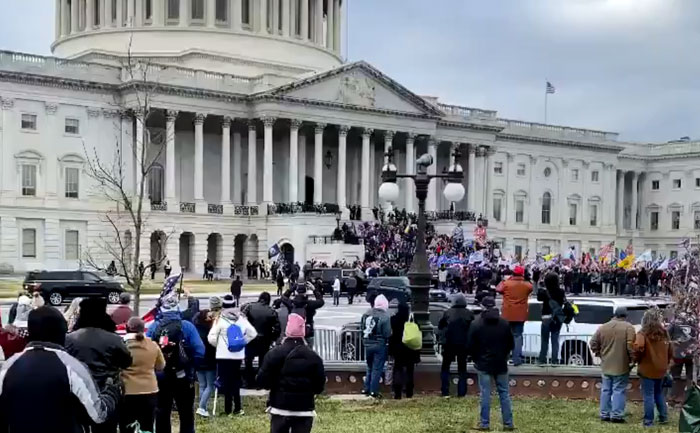 Donald Trump supporters breached security perimeters and entered the US Capitol. The shocking incident took place as Congress was expected to vote and affirm Joe Biden's presidential win. Lawmakers were evacuated from the US Capitol after protesters breached security and entered the premises.
Four people died during the Capitol violence including the woman as Donald Trump supporters clashed with the police personnel. The FBI said it had disarmed two suspected explosive devices. The officials declared Capitol 'secure' nearly 4 hours after the attack.
Responding to the violent clashes which left four dead, Mayor of Washington, DC, Muriel Bowser, ordered a curfew in the nation's capital beginning at 6 pm Wednesday. It has been extended to 15 days.
I have issued Mayor's Order 2021-003, extending the public emergency declared earlier today for a total of 15 days, until and unless provided for by further Mayoral Order.

— Mayor Muriel Bowser (@MayorBowser) January 7, 2021
Twitter and Facebook suspended Donald Trump's accounts on Wednesday. The sanctions were applied after Trump took to social media to repeat his numerous false claims about fraud in the election he lost to Joe Biden. Facebook barred Trump from posting at the social network or its Instagram service for 24 hours.
Trump lost the November election to Democrat Joe Biden. He has refused to concede defeat and has been riling up his supporters by claiming voter fraud to explain his loss. He even released a video on social media in which he repeated the false claim and even told the mob "I love you." But the video was blocked by youtube.
Also Read: Electoral College Makes it Official: Biden Won, Trump Lost