Watch: Ishant Sharma and Ravindra Jadeja get involved in a heated conversation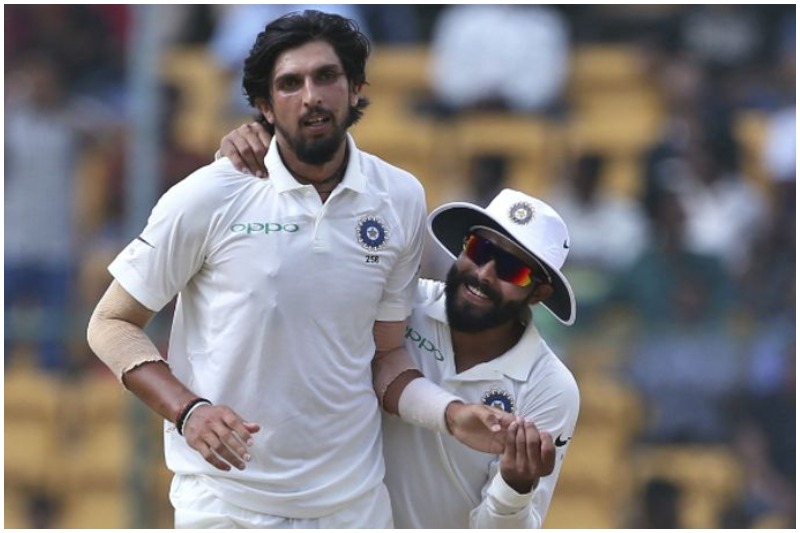 The second Test match in Australia versus India series didn't just witness verbal barrage between the two skippers-Tim Paine and Virat Kohli, but also saw Ishant Sharma engage in a heated conversation with teammate Ravindra Jadeja.
The verbal duel between the two escalated to such a level that Mohammad Shami and Kuldeep Yadav had to step in to stop things from reaching to a nasty point.
Here is the video, where the duo is seen talking with fingers points to each other.
Just a discussion over KLR batting, I presume. pic.twitter.com/5WM7XNygFJ

— Cricketing Baboon (@MadMart05) December 18, 2018
The verbal banter between Kohli and Paine has already made headlines on Monday and it required the intervention of the umpires to restore parity and make sure that the game is played in the right spirit.
Paine while talking to Murali Vijay said, "Murali, I know he's your captain but you can't seriously like him as a bloke."
It all began with the Aussie skipper telling his Indian counterpart-"You're the one that lost it yesterday, now you're trying to be cool today." Umpire Chris Gaffaney stepped in to calm things down when he said, "That's enough," but that didn't stop Paine who said, "We are allowed to talk."
Gaffaney retaliated, "Play the game. You guys are the captains. Tim, you're the captain."
Also read:Australia vs India: It's great to have Nathan Lyon in side, says Tim Paine
Before burying things down, the Aussie skipper fired one last advice to Kohli, as he said, "Keep your cool, Virat."