Watch viral video of two furious crocodiles brawling over pig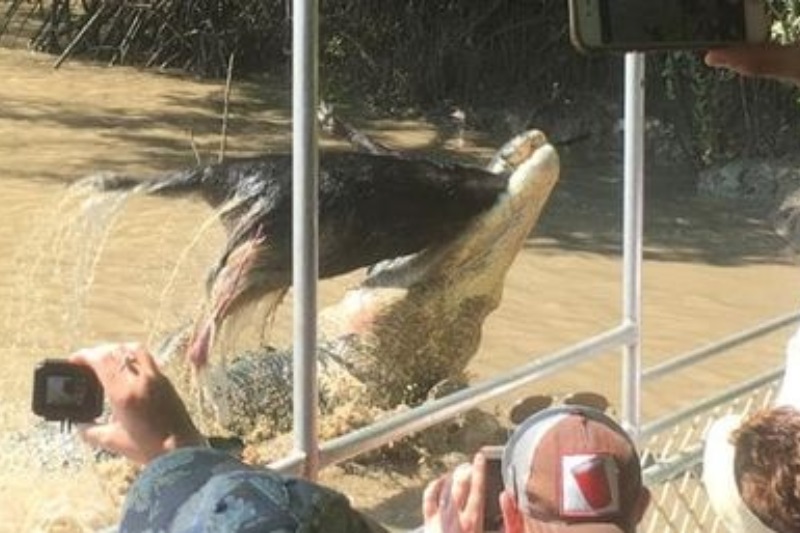 Two huge crocodiles were captured on camera furiously brawling over a large pig on the Adelaide River in Australia.
In the viral video, these two crocodiles were literally wrestling for food. The pair is famous in the Northern Territory named Brutus and Dominator.
Footage shows one of the crocodile holding the dead pig in his mouth and swinging it in air as the other one comes up to snatch it from him.
This duo has become tourist attraction since long for their habitats. As the tourists looking on from a nearby boat can be heard screaming and shouting in excitement as they watch the spectacle.
Also Read: Video of molestation in Unnao goes viral; two arrests made after manhunt
Brutus measures 5.3m in length and Dominator 5m. This proves the crocodiles are huge demons.
According to Adelaide River Cruises, they are not often seen fighting and even if they get into a brawl, chances of getting hurt is rare because they haven't got any teeth.
Brutus is estimated to be 84 years old hence not having teeth is justified but Dominator lives up to his name and always wins in such fights.
Well, this is not the first time the two crocodiles have hit headlines with their aggressive behaviour.
Watch Video here:
Also Read: Videos of Priyanka Chopra cheering beau Nick Jonas at Singapore club goes viral