We For India: AR Rahman, Ed Sheeran & Others team up for COVID-19 fundraiser
AR Rahman, Ed Sheeran, Mick Jagger, Steven Spielberg & Annie Lennox to star in Covid-19 fundraiser for India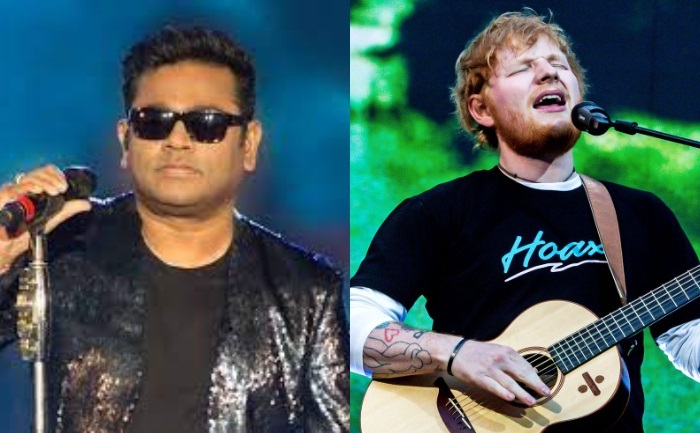 Global artists like Ed Sheeran, Mick Jagger, AR Rahman, Steven Spielberg, Annie Lennox are coming together for a cause. They are uniting for a fundraiser to help COVID-19 hit India. The celebs are taking part in 'We for India: Saving Lives, Protecting Livelihoods', a charity fundraiser. This is to aid India's recovery from the Covid-19 pandemic.
Bollywood stars Saif Ali Khan and Vidya Balan will also be part of the virtual fundraiser. It will be held on Independence Day. The event is to raise over Rs 25 crore for COVID-19 relief work. It will be live-streamed on Facebook for three hours.
The three-hour videothon will feature over 100 artists. Filmmakers Rajkumar Hirani, Imtiaz Ali, Farah Khan, Vikramaditya Motwane. Also Vikram Bhatt and Ribhu Dasgupta will also be part of the philanthropic event. The show will be hosted by Rajkummar Rao. Veteran writer-lyricist Javed Akhtar, dance maestros Prabhudeva and Remo D'Souza, musicians Shankar Mahadevan, Usha Uthup, Pandit Bikram Ghosh, Mithoon, Amit Trivedi, Vishal Dadlani and Shekhar Ravjiani, Salim Merchant and Sulaiman Merchant, Swanand Kirkire, Shantanu Moitra, Kanika Kapoor, Lisa Mishra will also perform.
The show is being produced by Reliance Entertainment, in partnership with The World, We Want (WWW) and supported by GiveIndia.
India has been one of the countries hit hardest by the pandemic, with an estimated death toll of four million. Give India will distribute funds to provide medical support as well as staffing in vaccination centres. The money raised by the fundraiser will be used to support those who have lost income or family members to the virus.
Also Read: BTS-Ed Sheeran Collab: Source From Big Hit Confirms Ed's Participation In Upcoming Songs