Weekly Horoscope August 25-31: Check astrological predictions for all Sun Signs:
Get most accurate astrological predictions and weekly horoscope for all 12 zodiac signs for August 25-31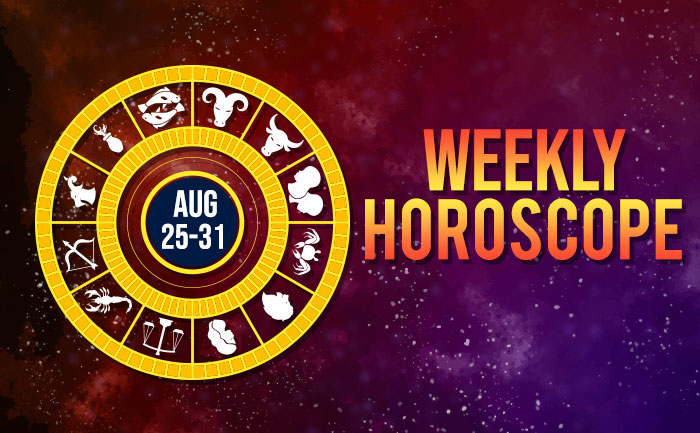 Planets have a big influence on our life. They affect each individual in a different manner as per their Sun Sign. Sometimes they have a positive influence and sometimes it is not so. You must be wondering how this last week of August will play out for you? Do not feel jittery read our weekly horoscope. Follow it, and relax.
Here is your weekly horoscope as per your Zodiac Sign:
Aries:
You are an open, honest, warm and person with a twinge of impatience. People respond and react very naturally to you. This last week of August your self-confidence is at an all-time high. You will easily pave your way to success in any field.
Wealth and Health too will be on an all-time high. But do not make any plans this week go for impulsive action. It will give you a positive reaction. Let go of the reigns and see where the tides steer your ship.
If you are single it would be best not to be carried away easily by any romantic proposals this week. They will not last long. Do not get distracted by the opposite sex. Married people will see harmony return to your relationship after the arguments and tension of the past few weeks.
On the professional front, you can easily carve a niche for yourself in your respective fields. Those of you who have a dream to make it big in the media world are likely to get some exciting offers that take your career to greater heights. Theatre professionals too can expect good times ahead as you`ll get recognition for your work.
This week you may run a risk of running a fever which will make you weak and irritable. Pregnant women need to be very careful about their diet. Young adults should avoid stress as much as possible.
Taurus:
You can easily make friends and also foster a friendship aspect of your relationship. This will help you forge a closer bond. Some of you might move into a larger home this week. There is an urge to be alone, seek solitude to check in your thoughts procedures. This might help you to balance your emotions.
Professionally you excel and will be the talk of the town. Financially, this is a prosperous week for you. You will enjoy the fruits of your labours. At the work front, some of you are likely to be assigned with some important work with strict deadlines. It will be a test of your dedication and hard work towards your company. You will be appreciated for the hard work and will get promoted to a higher position. This will be beneficial as it will allow you to experiment and take risks.
There is a very strong possibility you might fall for a colleague. But beware as it could adversely affect you. It will be better to keep it in wraps for the time being and explore the possibilities at a more opportune period.
This week you will see a significant improvement in your overall health. Your exercise regime starts showing positive results. But people who are working will be affected by lower backaches.
Gemini:
You are a child at heart and make an excellent role model for them. This week too there will a connection with the youngsters that will add joy to your brimming life. Gemini's are known for spreading themselves too thin. You are also prone to knocks, scrapes and nervous exhaustion, all thanks to your hyper energy. But your ability to communicate is your strongest tool and it will help you achieve the impossible.
Being a Gemini you are happy on the move and this week there will be a lot of action in your life. Travel too is on the card this week. It will unite you with like-minded people. Students preparing to have a career in the field of IT, medicine or engineering will succeed in your efforts. Those of you planning to make a career out of trading in share markets, hold off. This may not be the best choice for you.
You could suffer from some minor health problem. This could be triggered by tension or overindulgence in work. Try to keep yourself tension free. You should also avoid drinking too much, or there will be trouble sooner than later.
This week there could be some confusion between you and your partner due to lack of proper communication. Those who are single can meet someone who really intrigues them. This person could be really suited to you.
Cancer:
As a Cancerian, it is quite difficult for you to communicate directly. But as you speak from the heart you can easily capture attention which is truly admirable. You will readily stand for something you believe in and will win the support of family and friends.
On the work front, if you are on a managerial position this week will prove beneficial. You can expect a raise or a new position. Sales and marketing people will get a new job offer, grab it with both hands. It will benefit you in the long run. Financially, this is a strong time.
In love, there is a dizzying sense of reciprocity that excites you for your love to be loved. But this week will have a bad influence on your love life due to some unseen problems or miscommunication. But thanks to your charming aura they will soon be resolved. Spend some time with your love interest this week, in developing a basic understanding of each other. This will help in establishing a stronger relationship in the future.
Healthwise, the week ahead will be good and you will not complain about anything big. Meditation and Yoga may interest you deeply.
Leo:
Leo is known for their leadership quality as their confidence level is quite high. Fame and recognition are their childhood buddies. You should respect this aspect and the not only show will power and self-control but also compassion. As to be a leader involves taking action, not basking in the glory of your reflection.
This week you will get recognition in your field that will help you stand out in a crowd. It is a good time to achieve the impossible at the workplace. As whatever task you undertake will be completed within a short span of time.
financially an excellent period but be mindful with your money.
If you are single you may come across someone you really like. But hold your tongue as the one whom you like may not feel the same way about you. Married couples may face ego hassles that will strain their relationship. Spend quality time with each other to overcome this hurdle.
A recurring backache is likely to get cured this week. Your health will improve a lot. Teenagers need to quit their unhealthy habits and have some form of exercise. It will be good for them in the long run.
Virgo:
This week your confidence level will be at an all-time low. But do not worry as positive thoughts will soon bring good results in your life. You just have to be consistent, focused and apply yourself, then there is nothing you cannot do. Face things as they are. The truth can be freeing.
Students preparing for IT, CA, MBA and MCA exams will find themselves applying to a good coaching institute. Those who are employed will hear good news from their HR department about a promotion.
This week, you will not hesitate to express your feelings for someone you are in love with.  A new relationship is on the cards and it will be quite satisfying. Candlelight dinners will add spice to your life.
This week, it would be wise if you take up either exercises or yoga to improve your overall well-being. Youngsters should avoid wasting time on computers and channelise their energy into more productive areas.
Libra:
You are a balanced person and love to take a stand on the unjust things. This week you will be enjoying your fair share of luck. On the work front, you will be at the forefront for that elusive promotion. Thanks to your financial stability you will be able to eradicate debt easily. Avoid the temptation to spend on frivolous things.
This week will be a memorable one on the career front. Things will turn out the way you had planned for yourself. Problems are likely to get resolved and business picks up. A new job is indicated for some of you.
Married couples especially who are facing issues must work on your marriage. Do not take your spouse for granted. Single people will have to wait before you meet the partner who is truly compatible with you.
Healthwise this week is good for you. The aches and pains, that terrible cough all will disappear. Eat healthy food and take up some exercise regimen.
Scorpio:
Scorpions are known to feel emotions deeply. They will love and hate with the same ferocity. But this week your life is all about joy and happiness. As professionally and personally, life is flourishing. But no life is picture perfect and all involve a degree of work and effort. So being open and upfront is far better for your emotional and mental health.
Obstacles and tensions may arise in the workplace for some. People who are in government jobs might be transferred suddenly or even switch their jobs altogether. But soon many new opportunities will open up. If you are looking for a good investment option you can consider shares and stocks. Tour and travel companies will also bring profits.
You may have concerns about your relationship, and it is best that you communicate with your partner to clear the air. Those who are thinking of introducing your partners to your family the time is ripe and will reap positive results.
Eating right will be the fitness mantra of the week for you. Some of the diseases that have been causing problems in your life are likely to be cured soon. Teenagers need to take better care of their health. Avoid street food to stay healthy this week.
Sagittarius:
This week you are feeling light, buoyant and animated. Spending time with friends and family will be quite appealing. Your thirst for knowledge will bring you closer to guides and counsellors who will play a major role in your life. But you still have to learn lessons in terms of a relationship.
On the career front, it is a busy week for some. You will have many added responsibilities and will lead the pack towards the winning goal. But some personal issues may cause hindrance in your concentration. You might seek new work that challenges you in many different ways.
Due to professional responsibilities, you will not be able to give time to your partner. Do not worry as absence makes the heart grow fonder. You will have time in your hand by the end of the week that you can pamper your partner with and show that you care.
Take special care of your health this week as you are likely to fall sick. Children would get some relief from stomachache related disorders. Avoid spicy and oily food to keep indigestion and stomach burn issues at bay.
Capricorn:
A useful mantra for you is, 'health before wealth.' It is very important that you take the time to rest physically, mentally and emotionally. Slowing down may feel unnatural but it will be so beneficial for you. Your priorities need to shift, as the soul needs enriching too.
A good week lies ahead of you on the career front. A lot of people are watching, admiring and picturing how you might fit into their big plans. So, be gracious and careful on your professional front.
This week changes your love life in marvellous ways. Use this time to express your emotions and get close to your mate. Singles should avoid entering into any new relationships.
You will benefit from self-discipline this week. Do not indulge in unhealthy eating habits like snacking and eating oily and fried food as they might cause problems. Some minor aches may trouble you during the weekend.
Aquarius:
There is plenty of joy in your life as all areas of life flourish, including work, relationships, hobbies and your financial status. This is a time of expansion and growth. In these good continue to build a well of reserves within yourself for the more challenging times.
Take decisions regarding your future very carefully this week. Do not be in a hurry to change your job or even apply for one, as this is not the right time. A very good time is indicated for business professionals.
Committed singles need to be on guard as some unpleasant situations are indicated for you. Don`t accept proposals just on a whim and take your decisions after giving some thought to it. Married people who have problems in your love life will see them subsiding at this time.
This week, your health will be in decent condition as no major problems are indicated. You will be in good spirits all through the week. Friends will act as support systems and will help you go through any troubles you face.
Pisces:
You are a sensitive creature, checking in on all facets of your health should be a priority. You need to not be too demanding of the delicate side. Be gentle with yourself. Smile. There is peace in surrender, especially against the self. Your feelings are your strength.
This week you find that you will be able to use meditation and yoga as a means of controlling your weight. Your skin will positively glow this week. You may find people commenting on how wonderful you look.
This is a mixed week for you as far as your love life is concerned. You and your partner might have quite a few disagreements. Married couples must give their best efforts to make their relationship stronger. Avoid being overly critical.
On the work front, work with your team to get results. Thanks to team effort projects will complete on time giving you the much-needed raise. Your communication skills are another area that you need to really work on to enhance your career prospects.
Also Read: Leo Love Horoscope: Personality,Traits, Compatibility And Celebs Born Under This Sign