Weekly Horoscope December 22-28: Check astrological predictions for all Sun Signs
Get most accurate astrological predictions and weekly horoscope for all 12 zodiac signs for December 22-28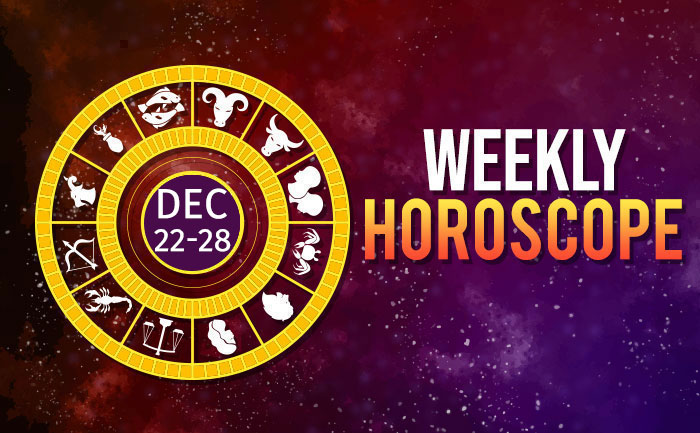 Planets have a big influence on our life. They affect each individual in a different manner as per their Sun Sign. Sometimes they have a positive influence and sometimes it is not so. You must be wondering how this first week of September plays out for you? Do not feel jittery read our weekly horoscope. Follow it, and relax.
Here is your weekly horoscope as per your Zodiac Sign:
Aries:
This is a wonderful time to start something completely and utterly new and you will use your intelligence and integrity to consider initiating new sources of earning income. You aren't one to stick to the convention. You need to try your hand at something new and different. Embracing novelty is also essential in your personal life.
This week you need to take full responsibility for all your assignments and get them done on time. Business professionals are likely to benefit from a partnership. This week arguments are indicated if you start taking your partner for granted.  You must do something fun with your partner to ease off the tension a bit.
BP patients need to take care of your salt intake. Also, sugar patients should make sure that you do not jump the normal boundary of restrictions.
Taurus:
This week, things feel mixed like a sunny day with specks of rain. You'll have the patience to weather the storm. Try not to be stubborn and dig your heels in. Instead, embrace the better qualities of your sign. There is a soothing gentleness to you, that should be brought out more often.
This week, ambitions and goals look reachable. However, taking hasty decisions is discouraged. The possibility of hurried conclusions may lead to a loss in the future.  Your partner may feel a bit neglected at this time. You may find it hard to take time out of your tight schedule at work. Share this problem with them and things will be much better.
Elderly people are advised to go light on heavy food.  Some youngsters would be bothered with certain skin-related disorders. They should avoid junk and oily food to avoid pimples.
Gemini:
This week you may feel less active and outgoing than you usually do. The twin is always seeking completeness, but it needs to learn that true completeness lies within rather than outside. Minor health problems may emerge such as throat and skin issues due to high stress.
There may be some kind of confusion on the career front. You may be undecided about certain decisions that you need to make. Use your creative skills to solve the issue. A good week for both singles and committed couples. Past misunderstandings will be cleared and relationships are likely to change for the better.
This week, some of you will be concerned about your weight.  Many of you will think about taking tips from a fitness instructor.
Cancer:
Your personal life is a truly happy one and a sense of bliss permeates through everything. But you are prone to self-doubt as, like water, you ebb and flow and can be at the whim of your emotions. But you have the beating heart of a cardinal sign within you. This means you always get going even if it takes some time.
Those employed in sales and marketing will think of starting their own business this week. They can take risks as it will be beneficiary. This week is focused on bringing things together instead of pushing them apart, for you love birds. Those in a relationship will find all past verbal spats being resolved.
Health-wise, this will not be a great week. Youngsters may feel lazy this week. Older people may suffer from lower back pain.
Leo:
There's a need for change in work. It might be a different job or a change of career. Your hard work will pay off, but you may need to figure out where your heart lies.  Your focus this week should be on your professional life. Whatever you start you finish.
The week ahead looks good for your career. You will challenge yourself to achieve more on this front Your talents will be noticed by others.  This week romance may fail to satisfy. You may not be happy with the way things are progressing on this front. You may also be jealous of your partner spending time with a friend. Avoid these negative emotions.
This week you need to pay attention to your diet and avoid anything that can upset your stomach. Working late at night may put a lot of pressure on you.
Virgo:
These are lucky times and combined with your ability to generate goodwill and work hard, you'll notice things start to shift.  You can see the pattern before others can and you like to make sense out of the nonsensical and order out of the chaos. You feel full of self-confidence this week.
This week, obstacles that you have been facing in recent times shall get significantly reduced. Team member support helps you a lot this week. A better future awaits business professionals this week. This week your love life will definitely improve compared to the past few days. An old love might come back into your life.
People who have been suffering from back pain or joint aches will soon get relief from this. Children might be vulnerable to eye infections.  If someone does fall sick please go to the doctor for advice.
Libra:
There will be a lot of moving and shaking this week. There may be some confusion in making both minor and major life decisions.  You must be able to keep calm as the tension you feel my boil over into domestic quarrels and fights which is very unlike you.
This week is particularly good for people who are creative and artistic.  Students who are confused regarding a career choice can think about the hospitality industry. You might experience both ups and downs in your love life this week. For singles, there is a chance that you might meet someone exciting.
Healthwise this week will turn out to be quite good for you. You will feel much better and will get cured from a recent ailment.
Scorpio:
This week do not mess with your partner which can become troublesome.  Give your partner space to be who they are. Have faith. If your relationship is meant to be then things will resolve themselves especially with open communication and authenticity.  
The week ahead might prove to be more hectic than you had anticipated. Some new work assigned to you will require you to focus completely on work and you may also have to work longer. Single people should not be too choosy when it comes to accepting a proposal. Divorced people who are scared of getting into a relationship again will meet someone who is really compatible with them.
You will find an improvement in your health this week.  Going for regular walks will help you people who have varicose veins.
Sagittarius:
You may feel that you are working harder than usual for less. The key is to keep going whilst finding outlets for your frustration.  In your personal life, there is plenty of relief, support, and companionship which can make any other difficulties melt away. Share your charitable heart with others.
This week is exceptionally good for software engineers. Even those who are looking to go abroad for higher studies will get a suitable opportunity. You will spend more time with your loved ones and make them feel special and cared for.  Communication is the most crucial element in this week's developments.
Stress due to overwork is indicated for some of you who tend to take your work too seriously. Ailments if any will be due to anxiety.
Capricorn:
This is a positive period for Capricorn natives across all areas. Firstly, you may become famous, recognized, successful or accomplished. If you have children and a family, you'll enjoy a prosperous and blissful life with them. Responsibility doesn't frighten you. You rise to the challenge happily.
People in the media and entertainment industry especially actors will have a productive time this week. They will not only receive several new offers but will also do well in their current projects An infatuation could lead into something serious and meaningful this week. This is good time to get closer to your partner.
You heave a sigh of relief as you recover from an annoying illness during the middle of the week. But it would require some strict monitoring in the initial period.
Aquarius:
You may be concerned about the health and wellbeing of those you love. Fortunately, your family and friends will be immensely supportive of you which gives you confidence and a degree of peace. It is only natural to worry about those we love.  Your lifestyle may seem aloof and detached but you are very fixed once you fall.
This is a favorable week for you on the career front. You finally get that much-awaited promotion which helps you move your career ahead.  This week love is likely to take an interesting and exciting turn for some of you. Married couples would see an overall improvement in the relationship.
This is a great week for you health-wise and you will have enough energy and vitality to get through a hectic schedule.
Pisces:
Pisces, you are gentle, tender and mercurial but with the force of Pisces, you become more of a powerhouse. Pisces likes to feel things out and receive. There are plenty of opportunities to seize and you'll have the gumption to go after them. Big things will begin happening for you and things are being set in motion today.
Students, you will benefit if you listen to the counsel of a friend. Dissatisfied businesspeople, you may think of changing the nature of your business.  This a good time for those of you who have recently fallen in love to have some fun and keep talks about commitment for later.  Young couples will have an exciting week ahead.
This week, don`t get surprised if you are troubled by some allergic reactions.  It would be prudent not to neglect it and seek immediate treatment because it might aggravate the problem.
Also Read: Weekly Horoscope December 01-07: Check astrological predictions for all Sun Signs